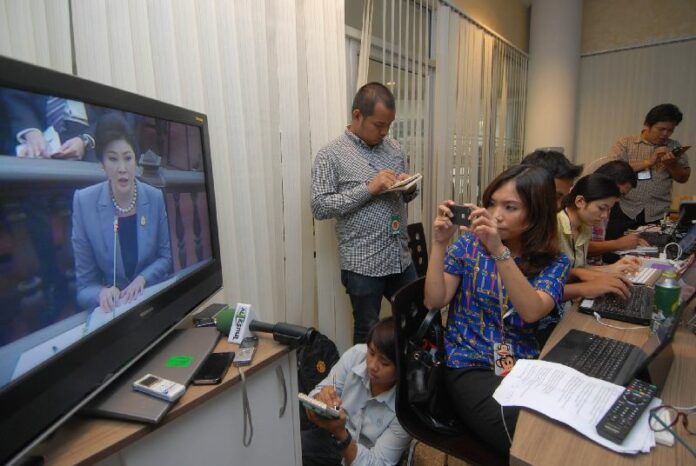 BANGKOK — The Constitutional Court has removed Prime Minister Yingluck Shinawatra from her caretaker position but allowed her government to stay on until the next election—saving Thailand from the plunge into a political vacuum that many observers feared.
After a nearly-two hour reading today, the court found Ms. Yingluck guilty of unlawfully removing the head of the National Security Council (NSC), Thawil Pliensri, and filling his post with one of her allies in 2011.
The court declared such action a clear abuse of power and a violation of the 2007 Constitution.
The judges also ordered nine Cabinet members who were involved in the transfer of Mr. Thawil to vacate their seats as well, including prominent figures such as Deputy PM and Foreign Affairs Minister Surapong Tovichakchaikul, Deputy PM and Financial Minister Kittirat na Ranong, and Labour Minister Chalerm Yoobamrung.
The verdict takes effect immediately.
Nevertheless, the rest of the Cabinet has been allowed to stay on as a caretaker government until the next election, which is scheduled to take place on 20 July.
The cabinet later agreed to appoint former commerce minister, Niwattumrong Boonsongpaisan, as the acting PM.
The verdict came as no surprise to many pro-government supporters, who have long accused the Constitutional Court of collaborating with the royalist oppostion and harbouring hostility towards governments allied to former PM Thaksin Shinawatra.
Over the past decade, the same Constitutional Court has ousted three Thaksin-backed PMs, invalidated two elections won by pro-Thaksin parties, and dissolved two parties that have pledged their allegiance to Mr. Thaksin.
Mr. Thaksin, who was ousted by a military coup in 2006, is revered as a champion of the poor by his strong support base in Thailand's rural north and northeast, but is considered a corrupt, anti-monarchy tyrant by a coalition of the establishment and Thailand's mostly royalist, urban middle class.
Today's court verdict is far from the "worst case scenario" feared by many observers and pro-government activists, which would have involved the removal of Ms. Yingluck and her entire Cabinet, effectively stripping Thailand of a functioning government and creating an unprecedented state of "political vacuum."
Anti-government protesters led by the People's Committee for Absolute Democracy With the King As Head of State (PCAD) have repeatedly said that creating such vacuum is a part of their plan to replace Ms. Yingluck's government with an unelected "People's Council."
Pro-government Redshirts have warned that they will descend on Bangkok for a massive rally if the Constitutional Court ousts Ms. Yingluck and her entire Cabinet, though it is not immediately clear whether the Redshirts will accept today's verdict.
For comments, or corrections to this article please contact:[email protected]
You can also find Khaosod English on Twitter and Facebook
http://twitter.com/KhaosodEnglish
http://www.facebook.com/KhaosodEnglish