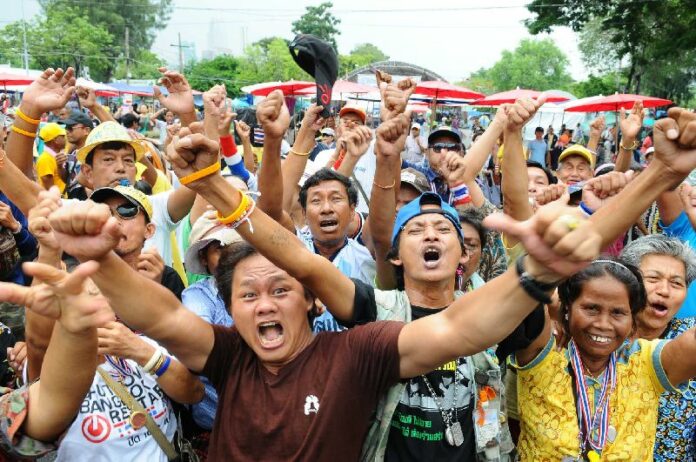 BANGKOK — Legal experts are calling the Constitutional Court's decision to oust Prime Minister Yingluck Shinawatra an abuse of judicial power.
In a verdict delivered this afternoon, judges ruled that Ms. Yingluck and some members of her Cabinet unlawfully removed the head of the National Security Council (NSC) in 2011.
For months, supporters of the government have accused the court of collaborating with anti-government protesters in their bid to oust Ms. Yingluck from her caretaker position.
"I think once again we have a judicial coup in Thailand," political science Professor Paul Chambers told Khaosod English, noting that this is not the first time the court has struck down Prime Ministers allied with Ms. Yingluck's brother and former PM, Thaksin Shinawatra.
Over the past decade, the same Constitutional Court has ousted three Thaksin-backed PMs, invalidated two elections won by pro-Thaksin parties, and dissolved two parties allied with Mr. Thaksin.
"Thailand has a form of democracy, but there is no real balance or checks," said Professor Chambers, who teaches at Payap University in northern Thailand. "What we have here is juristocracy – the judicial branch is head and heels above the legislative and executive branches of the government, and it's supported by traditional institutions."
Professor Chambers said he worries that the Constitutional Court's decision may further erode people's faith in the legitimacy of Thailand's constitutional democracy.
"This constant replay of courts issuing ridiculous verdicts may cause people who have believed in Thailand's democracy to stop believing in it," said Professor Chambers.
Chiang Mai University law lecturer Somchai Preechasilpakul also criticised the court's verdict today, which he said reflects the enormous amount of power, and bias, currently wielded by Thailand's judicial branch.
"The verdict appears to indicate that all Prime Ministers who do not come from the Democrat Party will be eventually removed by the so-called independent agencies," Mr. Somchai said, citing the removal of former PMs Samak Sundhornvej and Somchai Wongsawat.
"This is a big problem that society should be debating: is it really fair and legitimate to give such independent agencies, who have no connection to the people whatsoever, the power to regulate the politicians, who have a connection to a lot of people through elections?"
Independent legal advisor Verapat Pariyawong called today's verdict "a full blown version of judicial coup" reminiscent of the 2008 Constitutional Court decision to remove then Prime Minister Samak Sundhornvej from office because of his appearance on a cooking show.
"It is sad to see essentially the same court repeating essentially the same mistakes today," Mr. Verapat said.
According to Mr. Verapat, now the question is whether or not the current government will be able to keep rival protest groups from clashing on the streets.
"[Yingluck] has the unique ability to filter her brother's hot-headed thinking, but if she is gone, the situation can change very quickly for the worse," Mr. Verapat said.
For comments, or corrections to this article please contact:[email protected]
You can also find Khaosod English on Twitter and Facebook
http://twitter.com/KhaosodEnglish
http://www.facebook.com/KhaosodEnglish