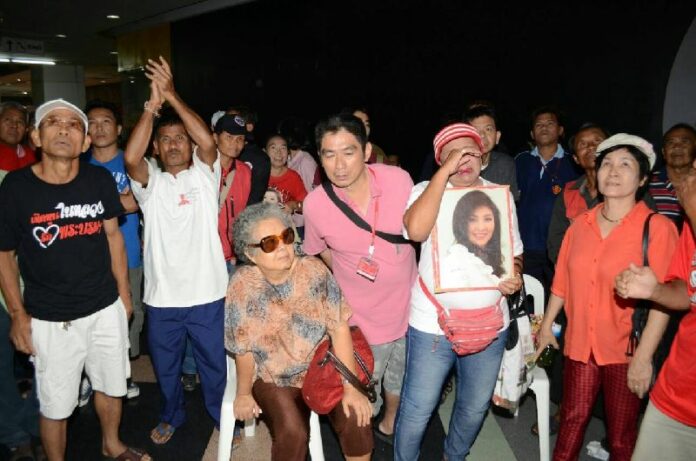 BANGKOK — The Democrat Party has demanded that the rest of the caretaker Cabinet resign alongside Prime Minister Yingluck Shinawatra and some of her Ministers following a ruling by the Constitutional Court today.
The judges found Ms. Yingluck and nine of her Cabinet members guilty of unlawfully removing the head of the National Security Council (NSC) in 2011, and ordered them to step down from their caretaker positions.
Ms. Yingluck has been replaced by Deputy Prime Minister and Minister of Commerce Niwatthamrong Boonsongphaisan, a senior Minister in the remaining Cabinet.
But the opposition Democrat party has urged the Cabinet to go further and resign en masse to show "responsibility" for the unlawful transfer of NSC director Thawil Pliensri.
"According to social courtesy, now that the court has removed the Prime Minister, the rest of the Cabinet should also resign to show responsibility for the country and society," senior legal adviser of the Democrat Party Wirat Kalayasiri said.
He added that he has never seen any other caretaker government in the world keep their jobs after their Prime Minister has been removed from the position.
"Look at South Korea. Their leader resigns just because a ship sank," Mr. Wirat said.
Democrat spokesperson Chavanond Intarakomalyasut said at the same press conference that other Ministers who survived the court's verdict should resign before the public demands them to do so.
"Today Ms. Yingluck is facing the same karma experienced by [former PM] Thaksin Shinawatra, but her minions are still bathing in happiness," Mr. Chavanond said. "Even though Ms. Yingluck has no power in the government, I believe other members of the Shinawatra clan still hold important jobs."
He added that the rest of the Cabinet should not "stubbornly" cling to their jobs or try to organise a new election on 20 July, citing concerns that more violent confrontations will break out if the poll goes ahead on that date.
"If they still want to have an election in this situation, I believe the Thai population will decrease by hundreds," Mr. Chavanond warned, referring to potential deaths from political violence.
Anti-government protesters backed by the Democrat Party previously surrounded polling stations and intimidated potential voters in Bangkok and southern provinces in the weeks leading to the general election on 2 February. Gunbattle even broke out between anti- and pro-election demonstrators in northern Bangkok.
The election was later invalidated by the same Constitutional Court in March.
For comments, or corrections to this article please contact: [email protected]
You can also find Khaosod English on Twitter and Facebook
http://twitter.com/KhaosodEnglish
http://www.facebook.com/KhaosodEnglish