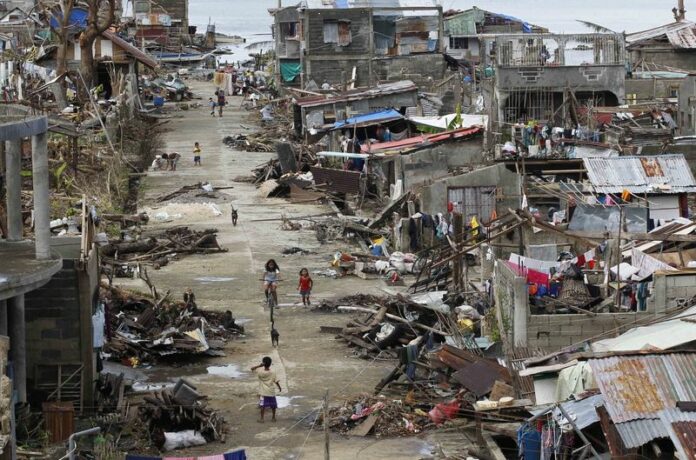 By Girlie Linao (DPA)
TACLOBAN CITY, PHILIPPINES — Alfredo Cojas ignores the sweat dripping from his forehead as he saws wood for a fishing boat he's building for a neighbour in the eastern Philippine city of Tacloban.
While working under the shade of a tarpaulin, the stifling summer heat forces Cojas to take off his shirt to finish the job that has been delayed for days because his neighbour didn't have enough money to buy materials.
"I just hope he still has money to pay for my work," he says jokingly, laughing with his wife, Adelaida, who is carrying their one-year-old daughter, the youngest of their four children.
The 49-year-old fisherman says he began to repair and build boats after he lost his own during Typhoon Haiyan in November. Without his boat, he was only able to fish when he could hitch rides with other fishermen.
"I couldn't fish regularly so I only earned enough to buy rice for the family," he says. "I needed to do something else. Even though only a few people could afford to have their boats repaired or to have new boats built, it helped me to earn more."
Six months since Haiyan wiped out their beach-side village in the worst-hit Tacloban City, Cojas says life is far from normal and the future uncertain.
"We have recovered a little bit with all the help we've been getting. But we don't know how long we have to live like this," he says, pointing to the ramshackle house he built by a seawall using scrap materials.
Cojas says local authorities have told him and other neighbours that they will be relocated soon but they were not told exactly when and where they will move.
"We might still be here during the rainy season," he said.
Like Cojas, many survivors of Haiyan are struggling to rebuild their lives after one of the world's strongest typhoons caused unprecedented destruction and killed 6,300 people in the Philippines.
More than 4 million people were left homeless and 6 million lost their livelihoods, according to government data.
While much life-saving work has been done since Haiyan struck, recovery in the key areas of shelter and livelihood is not happening fast enough, lamented Caroline Baudot, a humanitarian policy adviser of the British aid agency Oxfam International.
"It's pretty clear for us working in all of the affected areas that recovery is delayed," she says. "We need the government to show more leadership and a more solutions-oriented approach in their response."
Baudot says relocation programmes must be carefully planned to ensure that survivors have livelihood opportunities in their new communities. She also stresses the need for people to be given the initial capital to get back on their feet.
In Tacloban City, most schools and hospitals have re-opened, government services normalized and power has been restored to an estimated 80 per cent of the municipality, according to the city's chief legal officer Attorney Jenny Lyn Manibay.
"We are a long way from recovery, but there is already a huge difference from months ago," she says.
Debris no longer litters the streets and there was no longer any hint of decomposing bodies or rotting garbage that enveloped the city weeks after Haiyan. The public market is bustling with activity and some new restaurants have even opened up.
But the city still bears the scars of Haiyan – its airport and many other damaged structures have not been repaired, buildings that remain standing have tarpaulins or plastic sheets as roofs, and white tents now stand where some houses used to be.
A public gymnasium packed with thousands of evacuees has already been cleared, but many of the survivors are living in flimsy temporary houses made from scrap materials or cramped bunkhouses built by the government or aid agencies.
While the restoration is slow, many survivors are confident that they will survive the tragedy.
"There are so many people helping us so we know things will be alright eventually," says Nenita Villanueva, 70, who lives in a patched-up house with her 13-year-old grandson whose father, mother and two younger sisters died in the storm surge.
Villanueva's husband got a job in a cash-for-work programme sponsored by Plan International, a children's development organization helping their village of San Antonio in Basey town in nearby Samar province.
"The work is a big help because our livelihood was washed out by Yolanda," she said, referring to Haiyan by its local name. "We used to plant rice, process copra and raised pigs. We also had two water buffalos then for farming."
Villanueva now sells halo-halo, a Filipino dessert made from shaved ice, milk and candied fruits and jelly, to augment their income. She recently bought a new bike for her grandson Joshua who still looks for his sisters.
"I worry about him sometimes. I don't want him to be too serious," she said. "I always tell him that everything will be just fine."
In Tacloban, Cojas said he has been assuring his wife of the same thing and just two weeks ago, he received a new boat with a motor from a non-government organization.
"As soon as I earn enough to buy nets, I will start fishing again. Life will be better," he said.