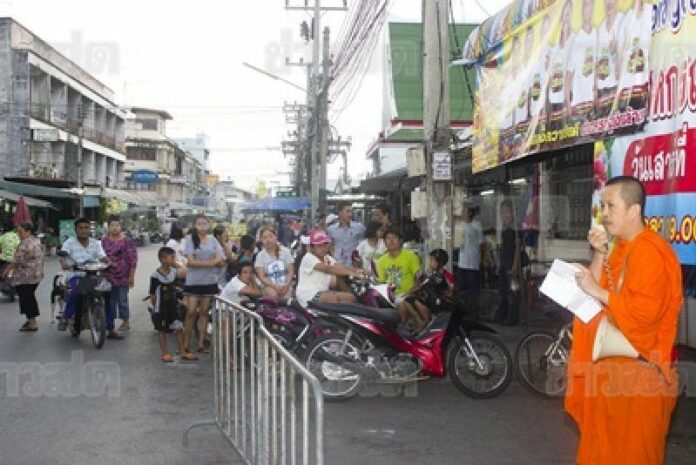 RATCHABURI — A monk in Ratchaburi province has staged a one-man protest over the lack of out-of-temple trips and donations he has been offered over the past seven years.
Phra Sap Abhitno, 35, drew much attention and bafflement from shoppers at a market in Bhotharam district this morning by explaining his grievance over a loudspeaker in front of a vegetarian charity lunch house.
Some curious motorists also stopped their vehicles to listen to the monk's speech, causing a considerable traffic jam in the area.
Phra Sap said he was ordained at Bhotharam Temple eight years ago (he had been a gangster before he joined the monkhood, he claimed), but over the past seven years he has never been invited to perform religious duties outside the temple. As a result, he has not had the chance to receive any donations from people outside the monastery.
Thais routinely invite monks to bless their new homes and businesses, often giving the monks donations in return.
Phra Sap also claimed that his abbot, Phra Kru Bhodiwaradhorn, has intercepted all of the invitations intended for him, and distributed them to other monks at the monastery instead.
"I am very sad," Phra Sap said through the loudspeaker. "It is as though I am merely a security guard for the temple."
He then announced to onlookers that he has resigned from Photharam Temple out of frustration, and is now looking for a temple that will provide him with more generous donation opportunities.
For comments, or corrections to this article please contact: [email protected]
You can also find Khaosod English on Twitter and Facebook
http://twitter.com/KhaosodEnglish
http://www.facebook.com/KhaosodEnglish