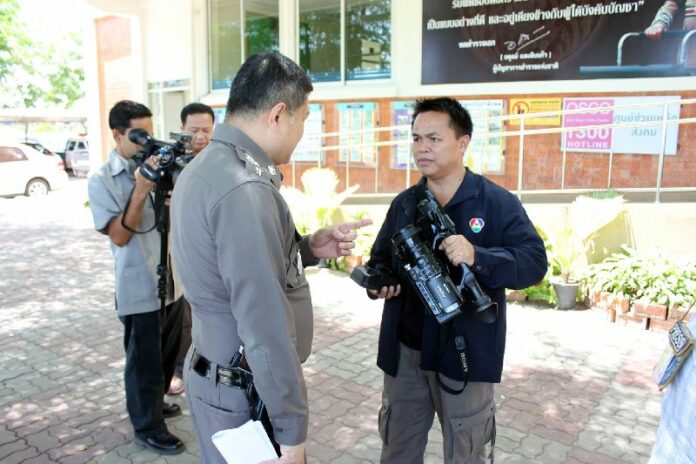 BANGKOK — A reporter for Channel 7 said the group of Redshirt taxi drivers who attacked him yesterday have apologised for their actions.
The Channel 7 television reporter, Thomchan Boonsaiya, 49, said he was attacked by a group of pro-government taxi drivers yesterday after they called him to report on their story.
According to Mr. Thomchan, the taxi drivers claimed they had been hired to attend the Redshirt rally in western Bangkok, but were never paid for attending. Mr. Thomchan said he agreed to meet with the taxi drivers and cover their story in front of the Thammasala Police Station on 14 May.
But when Mr. Thomchan arrived at the police station around 2:00 a.m. with his TV camera, the Redshirts waiting for him attacked him physically and forced him to delete footage on his camera.
According to police, the Redshirts ceased their assault on Mr. Thomchan when a woman from their group shouted that they should not harm the media. The demonstrators were not armed at the time, police said.
Mr. Thomchan said he spoke with the Redshirts who attacked him in a meeting mediated by police today.
Mr. Thomchan said the leader of the taxi drivers' group apologised to him, and explained that he thought Mr. Thomchan was a reporter from an anti-government press agency looking to discredit the Redshirts. When the leader shouted and moved aggressively toward Mr. Thomchan on the night of the attack, the other taxi drivers followed suit without knowing the situation, Mr. Thomchan told Khaosod English.
"They said we are sorry, we were too impatient, and we accept that we were at fault," Mr. Thomchan said. "I told them they should at least ask or talk to me first before they attack me."
The Channel 7 reporter added that he would not press charges now that he and the Redshirts have reached an understanding.
For comments, or corrections to this article please contact: [email protected]
You can also find Khaosod English on Twitter and Facebook
http://twitter.com/KhaosodEnglish
http://www.facebook.com/KhaosodEnglish