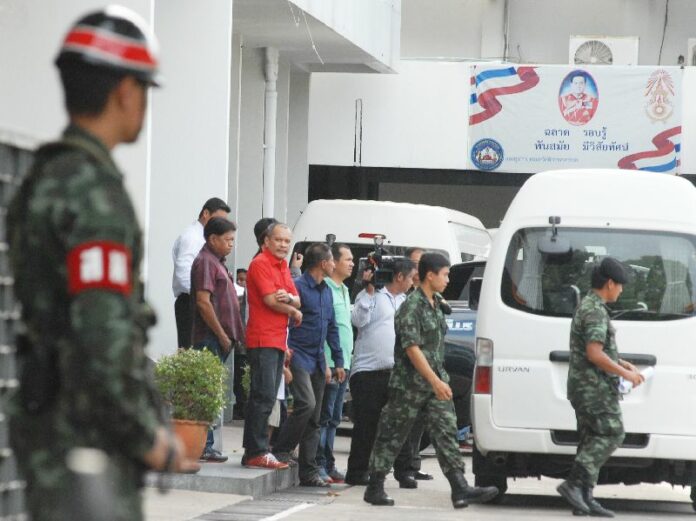 BANGKOK — Two politicians from the former government's ruling party have denied reports that they engaged in a drunken brawl over a card game during their recent detention in a military camp.
According to a report published on the pro-establishment Manager ASTV news website, former Pheu Thai MPs Woravat Au-apinyakul and Chuchart Harnsawat almost broke into a fist fight when one of them lost 4 million baht in a card game. The two were reportedly gambling over cards while they were being held in a military camp with other Pheu Thai politicians in Sarabrui province.
Both Mr. Woravat and Mr. Chuchart had been drinking and were intoxicated when the fight broke out, Manager ASTV reported. The story was later picked up by The Bangkok Post.
However, Mr. Woravat told Matichon today that the report was completely fabricated.
"The news is 1,000,000% false," said Mr. Woravat. "There was no fighting or gambling while we were detained in the military camp, because both of us are mature."
Mr. Woravat also claimed that being held captive together created a strong bond among the group of politicians.
"We never had any loud arguments, not a single fight. We lived like brothers," Mr. Woravat said. "Everyone who was detained in that camp is now close friends."
He added that he even helped former Minister of the Interior Mr. Chuchart, who is inflicted with diabetes, find medicine while the two were detained.
Another former Pheu Thai MP who was being detanied at the camp, Vicharn Meenchainand, said the news reported by Manager ASTV might have been caused by a misunderstanding because Mr. Chuchart "likes to talk loudly."
"Who in their right mind would pick a fight [in a military camp]? They would only laugh at us," Mr. Vicharn said. "I insist no brawl happened. And no gambling, either. We are all adults."
Over 200 people, including top politicians and activists allied to the former government, have been summoned and detained by the National Council of Peace and Order (NCPO) since it seized power from the previous government on 22 May.
Many detainees have been released in recent days because of a clause under martial that prohibits the military from detaining anyone without charges for more than seven days.