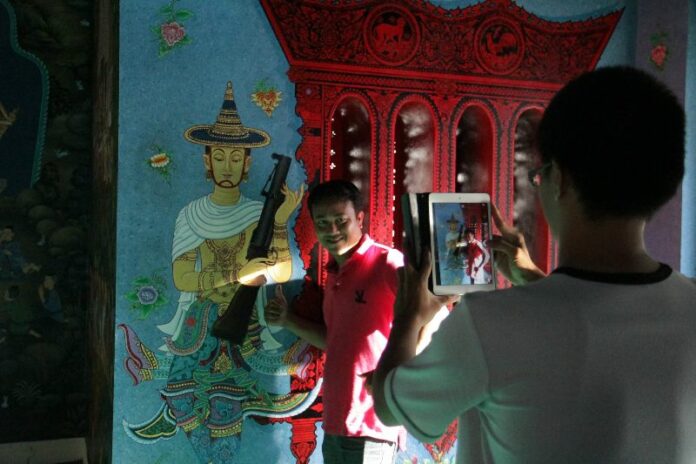 CHIANG MAI — The abbot of the City Pillar Shrine in Chiang Mai has ordered local artists to alter the angels painted on the shrine's walls by swapping their traditional swords with modern weapons.
"In the ancient time, these angels were equipped with ancient weapons like spears, swords, and knives," said the abbot, Phra Kru Suwattana Mettakhun. "But we decided to give them M16 rifles, M79 grenade launchers, handguns, and grenades, so they can have diverse choice of weapons."
"These are the weapons that are up to date," the abbot said.
The new weapons were added to the four Guardian Angels, who flank the entrance to the City Shrine, during a recent renovation of the sanctuary.
The murals chronicle the legend of the construction of the City Pillar and Phra That Jedi Luang Temple, another prominent religious site of Chiang Mai province, said Phra Kru Suwattana.
"We aim to restore and strengthen every part [of the shrine], so that it will be a monument and a sacred site that stands alongside Chiang Mai and the nation in many years to come," the abbot said.
Although the renovation has not been entirely completed, temple-goers and tourists are already allowed to visit the shrine and take photographs with the modern-equipped Guardian Angels. However, women are not permitted to enter the shrine due to a local custom.
According to the chronicles, the City Pillar was built in 1296 under the reign of King Meng Rai of the then-Lanna Kingdom.