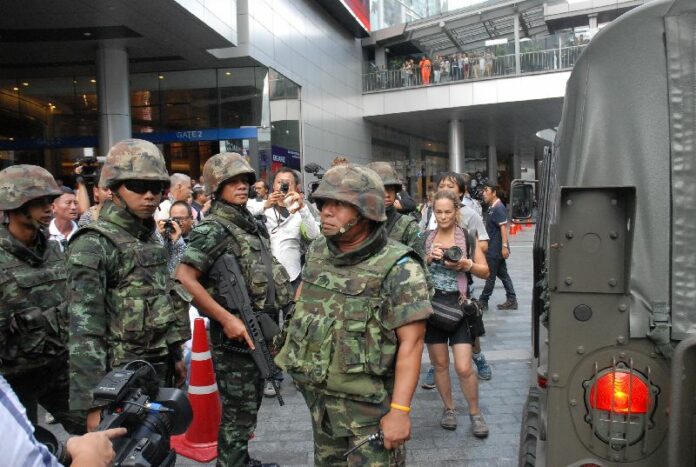 BANGKOK — The military says it is trying to locate a soldier who has been accused of masturbating in front of an anchorwoman at the TV station he was assigned to guard.
Witnesses say the soldier, who was armed with M16 rifle and bulletproof armour at the time, barged into the dressing room of an anchorwomen at the headquarters of Channel 9 TV at around 4 am this morning.
The soldier spent over 15 minutes wandering around the dressing room and "smiling" to the staff and reporters who were preparing for the morning news show before a hairdresser asked him why he was there.
To the shock of everyone in the room, the soldier replied by suddenly unzipping his pants and beginning to masturbate, witnesses said. The hairdresser quickly left the room and informed the other soldiers who were stationed nearby.
The soldier managed to slip away before other troops arrived at the scene, witnesses told Khaosod. He reportedly left his rifle and combat armour just outside the TV station compound.
The soldier was described as tall and lean with a tattoo on his arm. He is thought to belong the 2nd Infantry Battalion, whose soldiers have been occupying the TV station since the coup d'etat on 22 May to enforce the military's restrictions on media content.
The Commander of the 2nd Infantry Battalion, Col. Teerapong Chutinan, met with the anchorwoman today to apologize and present her with a basket of fruit.
Col. Teerapong assured the anchorwoman that the military is currently trying to locate the soldier and prosecute him for his alleged crime. The commander added that an initial investigation shows the soldier is a native of Surin province.
Suwit Sutthiprapa, producer of the morning news show at Channel 9, said he has been informed by military representatives that the commander of the soldiers guarding the station will be punished as well.