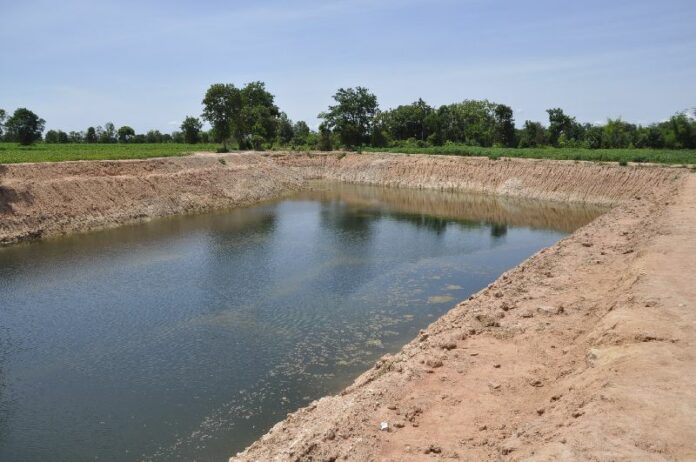 NAKHON RATCHASIMA — Local residents claim that they have spotted the "Naga," a many-headed dragon from Buddhist mythology, in a construction pond near Bueng Ta Ko village in Nakhon Ratchasima province.
Yongyuth Noppolkrang, 42, said he hired a contractor to dig a pool in his plot of land six months ago for his fresh water bottling plant. He claimed that workers encountered a "miracle" after digging 7 metres under ground.
"The colour of the water kept changing each day," Mr. Yongyuth said, "It turns into green, light blue, dark blue, purple."
The news of the "miracle" convinced villagers that the Great Naga must be residing in the pool. Locals quickly erected a shrine with flowers, candles, and other offerings for the mythical creature, and began conducting religious rituals by the pool.
One of the worshippers claimed to have seen the Naga swimming on the surface two weeks ago.
Cha Kleepputcha, 64, a resident of Bueng Ta Ko village, said she was attending a ceremony to ask for blessings from the Naga at 5 pm on 2 June when she noticed a "strange wave" in the water, followed by glimpse of shimmering colour beneath the wave.
She was convinced it was the Naga swimming. The dragon even "reared its head clearly for five seconds," Ms. Cha said.
"Everyone at the ceremony was so excited," she said, adding that the villagers were sure that the Naga will bring great fortune to their community.
The villagers also told our correspondent that some believers asked the Naga for luck and subsequently won the lottery, while those who drank water from the construction pool quickly recovered from illnesses.
Due to the daily rituals being performed at the pool, Mr. Yongyuth said he has halted construction of the water plant.
Meanwhile, Urom Kaewchan, the director of the provincial Department of Groundwater Resources, suggested that the phenomenon could be explained in another weay. According to Mr. Urom, the glittering was likely caused by a reaction between two types of water that were mixed during the pool's construction.
"When the sunlight reflects on the water, it glistens and may have caused onlookers to think it was the silvery and golden body [of the Naga]," Mr. Urom explained. "As for the changing of water's colour, it may have been because of a reaction between the saltwater and the sunlight."
The tale of the Naga is a well-known folk lore among Northeastern Thais. The most famous ceremony related to the tale of Naga takes place every November during the full moon, when thousands gather on the bank of Mekong River in Nongkhai province in hope of seeing the "Great Fireballs of Naga" explode over the river.