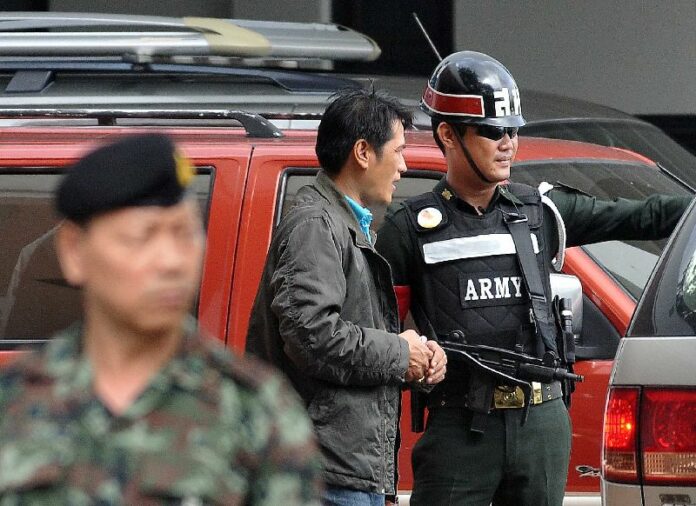 BANGKOK —The Thai military junta has summoned a Redshirt activist that a human rights group says has not been seen since she was arrested by the military three weeks ago.
Kritsuda Khunasen, 27, was arrested by soldiers on 28 May in Chonburi province, but the military has declined to release any information about her detention or whereabouts, Human Rights Watch reports. She has been missing for three weeks, which exceeds the seven-day limit under martial law on detaining individuals without charges.
Last night, the military ordered Ms. Kritsuda, along with 33 others, to report to the Army Club in Bangkok by noon today or face possible trial in military court.
"Summoning someone already in custody raises concerns that the authorities may be preparing to cover up a disappearance and that something may have happened to Kritsuda," said Brad Adams, the US-based Asia Director at Human Rights Watch. "The best way to prove this is not the case is to release her unharmed."
Ms. Kritsuda has been a public advocate of the Redshirt movement, which supported the government that was overthrown by the military coup on 22 May. For the past several years, Ms. Kritsuda has been providing humanitarian and legal support to other Redshirt activists that have been charged and detained for their alleged involvement in violent Redshirt political protests in 2010.
The military junta's National Council for Peace and Order has summoned and detained more than 300 politicians, activists, and academics over the past few weeks. The majority of those who are summoned are allied with the Redshirt movement. So far, Ms. Kritsuda is the only known case of a detainee that has not been released after seven days.
"We suspect foul play," said a Human Rights Watch official who has been following the case closely. "In this context foul play could mean forced disappearance, which is a crime under international law." The official asked to remain anonymous to avoid persecution by the NCPO, which has moved to silence critics and already blocked Human Rights Watch's webpage on Thailand.
It is unclear whether Ms. Kritsuda remains in military custody, and if so, why she has not been released. Ms. Kritsuda was not as high-profile or outspoken as a number of other Redshirt activists that have all been released after no more than seven days.
According to iLaw, a Thai NGO that tracks individuals prosecuted for national security reasons, Ms. Kritsuda was a personal secretary to a prominent Redshirt leader, known as "May E.U.," who was responsible for siphoning money to local Redshirt groups. Soldiers found and arrested Ms. Kritsuda during a raid on May E.U.'s office, an activist working for iLaw told Khaosod English. According to iLaw, May E.U. had already fled the country prior to the military raid.