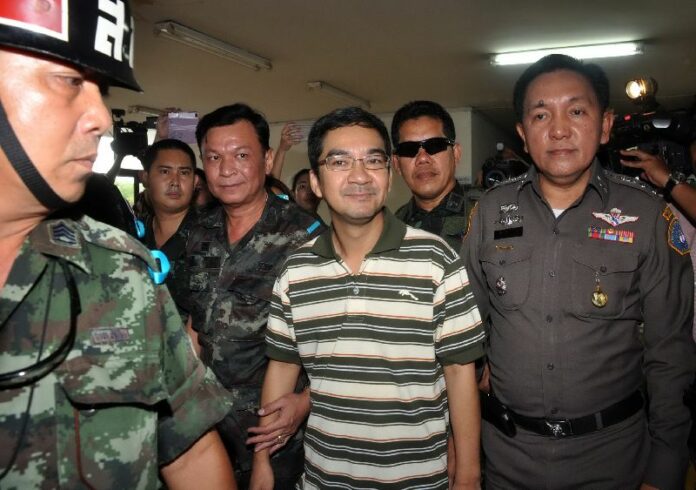 BANGKOK – A prominent Thai law professor has been released on bail after being charged for defying a summons order from the military junta.
Police escorted Worachet Pakeerat to martial court this afternoon and requested permission to detain the academic for 12 more days of questioning. The court denied the request after Mr. Worachet's lawyer provided 20,000 baht for his release on bail. Mr. Worachet was released on the condition that he not participate in any political rallies.
Shortly after staging a coup d'etat last month, the National Council for Peace and Order (NCPO) summoned Mr. Worachet and other progressive academics to report to the Army club. Mr. Worachet has been a vocal critic of Thailand's draconian lese majeste (insult of monarchy) laws, which the NCPO has made a point of enforcing vigorously.
Mr. Worachet, who taught law at Thammasat University and co-founded the pro-democracy group "Enlightened Jurists" (Nitirart), initially refused to report to the military, citing his poor health.
On Monday, police arrested Mr. Worachet in Don Mueng airport in Bangkok after he arrived on a flight from Hong Kong.
According to one of Mr. Worachet's close friends, the academic privately informed Thai authorities that he wished to turn himself in, and agreed to be detained at the airport.
Today, the military brought Mr. Worachet to the Crime Suppression Division to hear his charges of defying NCPO's summon orders, which carry a maximum sentence of two years in prison.
Mr. Worachet told reporters that he is prepared to contest the charges. He explained that he had no intention of defying the NCPO's orders; it was his poor health condition that prevented him from reporting. To prove his point, Mr. Worachet brought a bag of medication to show the police as evidence.
Winyat Chartmontri, secretary-general of the Volunteer Lawyer for Human Rights (VLHR), said he has been appointed by Mr. Worachet's family to provide the academic with legal assistance.
"Earlier, Mr. Worachet's wife submitted documents to the NCPO explaining that he could not report because he was ill," Mr. Winyat said. "I believe it is a sufficient reason."
Another Redshirt activist, Jittra Cotchadet, was arrested at the airport after she flew in from Sweden on last Friday. She has also been charged with defying NCPO's summon order, even though she notified the junta through the Thai Embassy in Sweden that she would surrender herself once she returned to Thailand. Ms. Jittra, who has been released on bail, also faces a trial in martial court.
The NCPO has summoned and detained over 300 academics, politicians, and activists since it seized power last month. Most of the summoned are seen to be allied or sympathetic to the former government.
Human rights group have criticised the NCPO's summon orders, branding them as a carte blanche for arbitrary detention and a tool for intimidation of those critical of the coup. However, the junta insists the summons are merely invitations for individuals to "cool down" and have a conversation with the military.
A majority of the "invitees" have been detained in military camps for 3-7 days before they were released on the condition that they will not engage in any political activities.