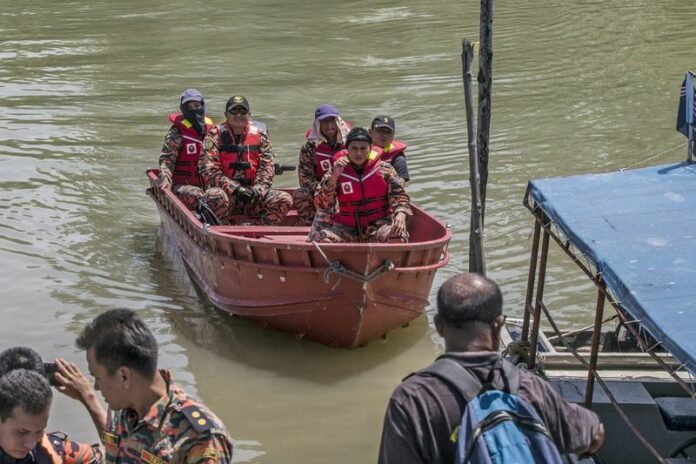 By John Grafilo (DPA)
KUALA LUMPUR (DPA) — At least two people drowned Wednesday and 34 others were missing after a boat carrying Indonesian migrants sank off Malaysia near the capital Kuala Lumpur, officials said.
Fishermen recovered the bodies of a man and a woman believed to be from the boat floating near the mouth of Sungai Langat river in the town of Kuala Langat, 45 kilometres west of Kuala Lumpur, said Jazlizad Jalil, from a local fire and rescue department.
Sixty-one people were recovered alive in the accident that occurred before dawn about three kilometres from the coast, said Ibrahim Mohamed from the Malaysian Maritime Enforcement Agency (MMEA).
Mohamed said the wooden fishing boat was believed to be heading for the Indonesian province of Aceh, whose nearest point is about 400 kilometres (220 nautical miles) from the coast of Kuala Langat.
"A survivor said the boat was overloaded and began taking in water after it was battered by huge waves, causing it to sink," he said.
The Indonesian workers were returning home to celebrate the Muslim holy month of Ramadan, a source at the MMEA said.
Of the estimated 1.5 million illegal migrant workers in Malaysia, more than half were from Indonesia, an interior ministry official said. Many make the journey between the two countries on rickety wooden boats in search of employment.
"Most of these illegal Indonesian workers are working as maids, helpers in restaurants, or in palm oil and rubber plantations," he said.
Malaysia has a high demand for Indonesian labour migrants, the International Office of Migration said, "and is highly dependent on their contribution to its development and industrialization."
Indonesia and Malaysia have similar language and culture, facilitating the flow of migrant Indonesian workers to Malaysia.