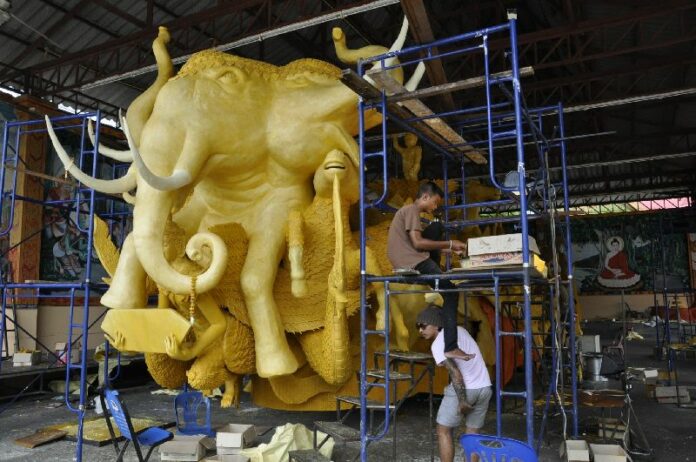 NAKHON RATCHASIMA — This year's annual giant candle parade in Korat will lack its usual touch of humour due to the Thai army's order that no political satire can appear on the candles.
The parade of giant candles marks the beginning of the three-month Buddhist Lent (Kao Pansa), during which monks are required to stay overnight at their temples throughout the entire rainy season.
In previous years, the parade's magnificently crafted candles not only featured Buddha and mythical beasts in Buddhist cosmology, but also political figures to raise laughter from the crowds of worshipers and tourists.
However, artisans interviewed by Khaosod say that there will be no reference to politics in this year's celebration in compliance with instructions from the 2nd Region Army, which is stationed in the province.
According to the candle artists, the soldiers told them that the ban on political satire is necessary to maintain the atmosphere of "reconciliation" and to avoid any further conflict in the society.
Some of the political figures featured in last year's candle parade include then-Prime Minister Yingluck Shinawatra, former Prime Minister Abhisit Vejjajiva, and the Democrat Party's Deputy Chairman Suthep Thaugsuban.
The ban is the latest attempt by the military junta's National Council for Peace and Order (NCPO) to "decolourise" Thailand's politics and stifle any display of political expression in the wake of the military coup on 22 May.
Instead of the traditional tongue-in-cheek references to politics, the main features of the candle parade this year will involve Lord Buddha and His Majesty the King, artists say.
The event is scheduled to take place on 12 July along the seven-kilometre stretch of road in Nakhon Ratchasima's town centre.
A panel of judges will pick the most beautiful candle in the parade, and the winning team of artists will receive a special award from Her Royal Highness Princess Maha Chakri Sirindhorn.
For comments, or corrections to this article please contact: [email protected]
You can also find Khaosod English on Twitter and Facebook
http://twitter.com/KhaosodEnglish
http://www.facebook.com/KhaosodEnglish