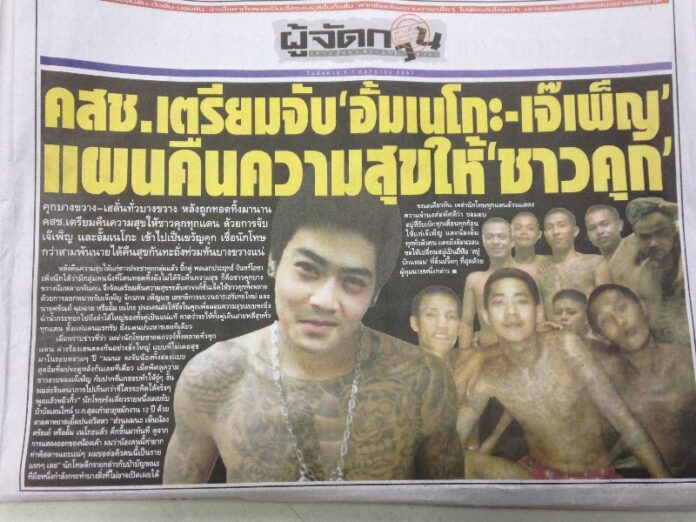 BANGKOK — The ultra-nationalist Thai newspaper Manager ASTV has published a "mock column" describing in graphic detail of how prisoners will gang-rape a fugitive anti-coup LGBT activist when she is finally arrested.
Published under the newspaper's parody section, known as"Phujadkuan," the mock article describes how the the military junta's National Council for Peace and Order (NCPO) will arrest and send LGBT activist Aum Neko to a prison in Bangkok to "return happiness" to the male inmates who have been deprived of sex for years.
The article also says that Jakrapob Penkair, a former politician and leader of an anti-coup organisation in exile, will be arrested and sent to prison alongside Ms. Aum, whose real name is Saran Chuichai.
"[Mr. Jakrapob and Ms. Aum] will be bestowed to the inmates so they can provide intimate, wet happiness, with thrusts reaching up to their intestines," the article wrote. "We expect that the pair will tour the entire prison and offer their bodily happiness to every prison section, from the first section to the death row section."
The article then quoted a fictitious inmate as saying he is longing to be the first prisoner to have sex with Ms. Aum.
"Whenever I see nong [sister] Saran, or Aum Neko, I always feel aroused. Judging from her behaviour, I think she has a lot of weird and difficult sex positions. I will try to be the first in the line to have sex with her," the fictitious inmate said as he masturbated, according to the parody piece.
Other parts in the article contain threats of gang-raping Mr. Jakrapob, who Manager ASTV has previously not-jokingly accused of being gay.
Ms. Aum, who is enrolled at Thammasat University, is a well-known transgender activist who has campaigned for more freedom of expression on campus. She is known for undertaking controversial actions to promote her cause, such as striking a provocative pose in a photo with the statue of Thammasat founder, Pridi Banomyong.
Ms. Aum has also spoken out against Thailand's harsh lese majeste (insult of monarchy) laws, as well as the 22 May military coup. The military junta summoned her to report shortly after the coup, but she has refused to turn herself in. Her whereabouts are currently unknown although she continues to criticise the junta on social media.
"I strongly condemn this kind of news not because it is about me but because everyone who has a different opinion in this society should not be treated like this," Ms. Aum told Khaosod English. "They [Manager ASTV] live with hatred, not the duty to report the truth. Will we call this action an acceptable thing in the world of so called democracy and humanity?"
The "Phujadkuan" section of Manager ASTV newspaper has a history of publishing "mock articles" which include false and libelous remarks about individuals who belong to the political faction that supported the former government.
For example, the paper published a fake interview in March quoting a progressive actress as saying she changed her surname to "Shinawatra" in support of former Prime Minister Thaksin Shinawatra, the de facto leader of the political camp that supported the former government deposed in the 22 May coup. The piece also "quoted" the actress, Intira Charoenpura, as urging Mr. Thaksin to form a new country by leading a secession movement in the North.
The piece became popular among pro-monarchy Thais, many of whom failed to realise that it was a satire.
In 2009 Mr. Thaksin's lawyer pressed charges against Manager ASTV on behalf of his client, accusing the newspaper of defaming Mr. Thaksin by publishing a photo that was doctored to depict the former Prime Minister revealing his testicles.