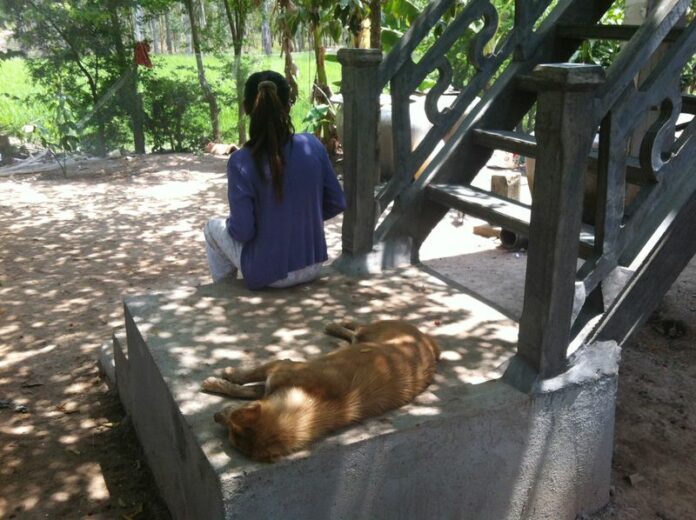 By Kate Bartlett
KIEN SVAY, CAMBODIA (DPA) — Nervous talking to strangers even from the safety of her family home, Khai Sochoeun describes her ordeal in China last year.
"Life there was like a slave and a sex slave," the shy 29-year-old Cambodian said.
She was flown to southern China with two other Cambodian women, she said, on the promise of factory work and a monthly salary of 500 dollars – about five times what a factory employee in Cambodia could expect to earn.
"I expected to make good money and send it back to my family who are so poor," Sochoeun explained, pointing to the stamp in her passport to stress the truth of her story.
"It was amazing when the airplane landed in China – it looked so modern and I thought everything I'd dreamed of was true," said Sochoeun, whose only images of the country had come from lavish soap operas popular on Cambodian television.
The women were met at Guangzhou airport and driven to a home.
"All three of us were brought a pair of shoes and a pretty dress and told to do our makeup nicely. Then we sat on a sofa and many Chinese men came and looked at us," she said.
"I asked where the job I was promised was and they said: 'No job, you have to marry a Chinese man,'" she said. "I refused."
After being told that she would have to pay back the money for her airfare, Sochoeun was left with no other option, she said.
"From the beginning, I don't know if it was rape or not, but he forced me to have sex with him many times a day. When I refused to sleep with him he hit me," she said.
She also did all the cleaning for the seven other family members who lived in the house and was barely allowed outside.
On a rare day at the house alone, Sochoeun managed to phone home and beg for help.
Her sister contacted local human rights group Licadho, who worked with the government to bring Sochoeun home.
Sex-trafficking in Cambodia has been the focus of the wrong kind of attention since last month, when Newsweek magazine published an article exposing high-profile anti-sex trafficking advocate Somaly Mam as a fraud.
The investigation, and Mam's subsequent resignation from her foundation, left questions about whether in Cambodia sex trafficking was as big an issue as previously believed.
Sochoeun was not trafficked to a Cambodian brothel like the victims Mam was associated with, but rights groups say her experience is becoming more common.
"The last six months there's been an increase of this kind of trafficking," said Thun Saray, who heads Adhoc, a local rights group that has in the past five months helped repatriate 24 women from China, three times the number in all of 2013.
The Ministry of Interior made 20 arrests last year and rescued 35 potential victims at Phnom Penh airport, but it is hard to estimate the full extent of the problem because many might still be getting through.
Sochoeun, whose background makes her an unlikely tourist, was questioned by officials at the airport but subsequently let through.
Trafficking to China "is a big concern for us," Pol Pithey, director of the Ministry of Interior's department of human trafficking, told dpa. "We have rescued more women (recently)."
Some Cambodian women go abroad willingly, knowing they are bound for marriage. But others, like Sochoeun, are simply tricked, and then trapped.
Cambodian police are working with the Chinese embassy in Phnom Penh to catch such traffickers, national police spokesman Kirth Chantharith said.
Thun Saray says the growing phenomenon is partly due to a gender gap created by three decades of the Chinese Communist Party's one-child policy, in a culture where male children are favoured above females.
Thirty million men are expected to be single by 2020, according to Chinese government estimates, an indication that the demand for foreign brides may exist for some time to come.