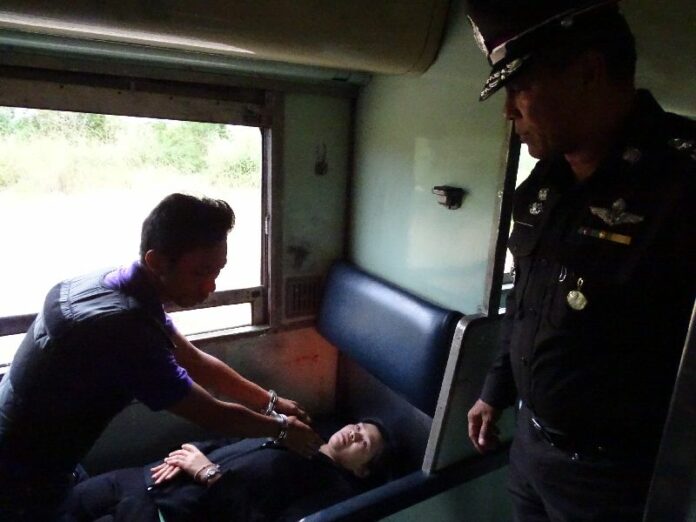 BANGKOK — Fresh details about state railway employee who confessed to raping and murdering a girl on an overnight train have shed light on widespread nepotism and negligence within the State Railway of Thailand (SRT).
Wanchai Saengkhao, 22, confessed yesterday to raping a 13-year-old girl on the Surat Thani – Bangkok train in the early morning of 6 July and throwing her body overboard afterwards.
The girl was initially reported missing by her relatives, who were also on the train with her. After a large-scale search party was launched, the girl's body was found next to the train tracks in Prachuap Kiri Khan province.
The case has sparked an outrage in Thai society, with many people pointing the finger at the SRT for its lax security measures on board the train and failure to properly screen its employees.
Drug and alcohol abuse
According Mr Wanchai's testimony, he took two amphetamine tablets at the train station in Nakhon Si Thammarat province before starting his shift, and took another tablet while was working onboard the train.
Mr Wanchai told police today that he first noticed the victim when he and three other employees were drinking beer together in car number 3. Mr. Wanchai said he was sexually aroused by the girl and plotted to rape her.
When the train entered Prachuap Kiri Khan, Mr. Wanchai shut down the lights in the car where the victim was sleeping. Shortly after midnight, he entered her sleeping cabin, knocked her unconscious, and sexually assaulted her, Mr. Wanchai told police. When the victim started to regain consciousness, Mr. Wanchai sexually assaulted her again and decided to throw her body out the window to hide the evidence, according to his testimony.
He said the victim was still alive when he threw her onto the rail track.
Mr. Wanchai's testimony has raised concerns about why SRT officials were able to freely drink alcoholic beverages and take narcotics while on the job.
Many also remain baffled at how a single train employee managed to turn off the lights in the sleeping car and rape a train passenger without raising the suspicions of other staff.
The SRT's screening procedure for new employees has also come under scrutiny after Mr. Wanchai confessed to police that he has previously raped two other women on trains. Mr. Wanchai said but the other two victims were too embarrassed to file charges with the police.
Rampant Nepotism
Prapat Chongsaguan, governor of the SRT, admitted in an interview today that Mr. Wanchai might have been able to secure his employment through a close relationship he had with another train official. The official, who Mr. Prapat did not identify by name, may have also helped erase Mr. Wanchai's criminal records from the SRT database.
Mr. Wanchai was one of 90 new employees who successfully passed a screening on 16 June, said Mr. Prapat, who took up the top job in November 2012. Mr. Prapat said the SRT plans to re-examine the backgrounds of the other new employees that were hired alongside Mr. Winchai and establish whether they passed the selection because of connections with senior officials.
"The problem with "favourite kids" who come to work in SRT is that they think they have the privilege over other people. They dare to do everything they please, like drinking alcohol during their shift, even though the rules say they will be fired," Mr. Prapat said. "The "favourite kids" have connection with all the troubles."
Mr. Prapat vowed to punish all officials involved in the incident without prejudice or undue protection, including the three staff who were reportedly drinking with Mr. Wanchai shortly before he allegedly committed the crime.
The SRT governor admitted that the SRT is plagued by a "strange allocation of power," which employees often exploit in matters of recruitment.
"There are many strange things in the SRT," Mr. Prapat said, citing how he was not informed about the rape of a woman onboard a train by an SRT official in 2003 until yesterday.
"No one gave me information about it at all. I just started working here for over a year, so I have no access to information about what happened 10 years ago."
Prasit Jindasi, director of SRT's recruitment unit, said he is currently evaluating the 90 employees who were hired in the same batch as Mr. Wanchai.
He claimed that none of the 90 new staff had criminal records, although he admitted that the SRT did not look into the criminal record of Mr. Wanchai before he was given the job. Mr. Prasit blamed the police for their delay in sending files to the SRT.
Mr. Prasit insisted that he has no personal connection with the suspect.
"I don't know him. I have not even seen his face before," Mr. Prasit said in an interview. "He was under my responsibility, but I also have more than 250 staff under my watch, so I do not know him."