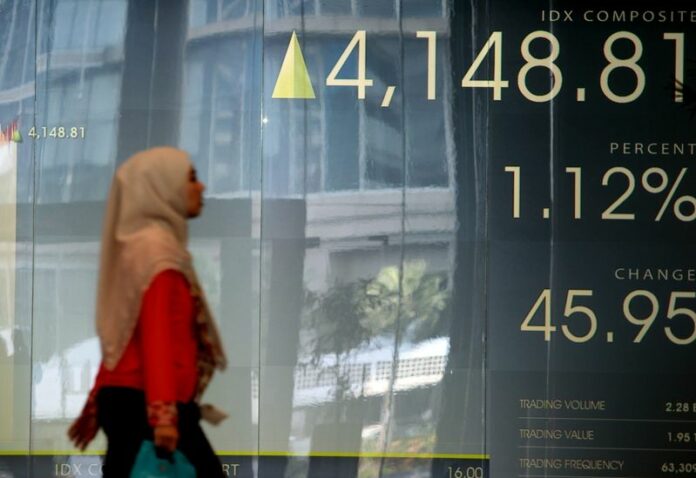 By Ahmad Pathoni, dpa
JAKARTA (DPA) — Indonesian stocks rose Thursday after most unofficial counts predicted that Jakarta Governor Joko Widodo would be the winner of the previous day's presidential election.
The Jakarta benchmark index opened 127.84 points higher, or 2.54 per cent, at 5,152.55.
The Indonesian rupiah rose 0.52 per cent against the dollar to 11,566 in morning trading.
The gains came despite claims of victory by both Joko and his rival, former general Prabowo Subianto.
Unofficial counts released by pollsters after Wednesday's election showed Joko leading with about 52 or 53 per cent of the vote, compared with Prabowo's 47 or 48 per cent.
The quick counts, as the estimates are known, are based on a sample of the ballots cast in selected polling stations and have accurately predicted the results of previous elections.
Joko's rival, former general Prabowo Subianto, said similar counts by his camp pointed to him becoming president.
Analysts expressed concern that the competing claims could create an atmosphere of uncertainty ahead of the official announcement of results, expected on July 22.
Prabowo and Jokowi urged calm after separate meetings with outgoing President Susilo Bambang Yudhoyono late Wednesday.
"We have always emphasized the need for restraint and avoiding euphoria and provocations," Prabowo said.
Joko said he appealed to the president "to exercise his leadership so that calm prevails and there's no friction at the grassroots level."
Joko, 53, was not well known on the national stage before he joined the race to become Jakarta governor in 2012. He is considered a reformist politician untainted by past excesses.
The 62-year-old Prabowo, who once was married to one of former dictator Suharto's daughters, is seen as representing the country's elite old guard.