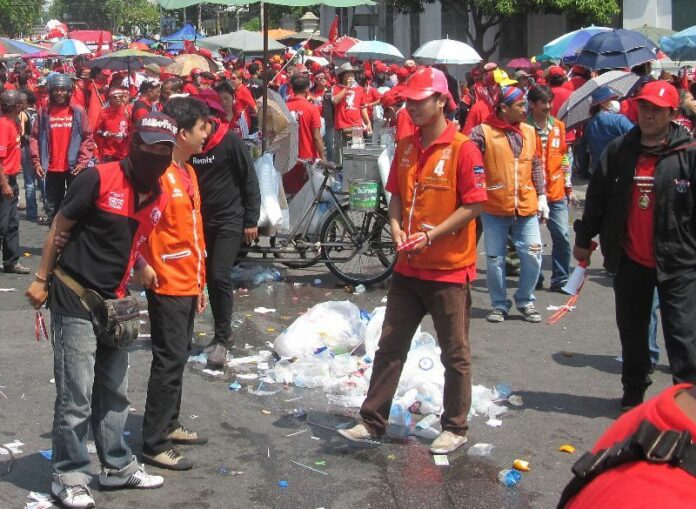 BANGKOK — Thailand's military junta has vowed to curb extortionate and illegal practices by Bangkok's motorcycle taxi drivers, many of whom are considered to be supporters of the previous government.
Maj.Gen. Abhirat Kongsomphong, commander of the 1st Division King's Guard, said yesterday that the military has invited "300-400" motorcycle taxi drivers to a lecture on passenger safety and other traffic issues.
The ruling National Council for Peace and Order (NCPO) has made regulating and revamping the motorcycle taxi business a top priority since seizing power in a coup d'etat on 22 May. The NCPO has already moved to institute standard prices and enforce proper registration among the motorcycle taxis.
Another issue the NPCO is set on tackling is the selling of "win (station) jackets" to other individuals who are not properly registered, thereby allowing them to pick up passengers at a certain win (station).
"There must strictly be no selling or buying of the win jackets," Maj.Gen. Abhirat said yesterday, "If we discover anyone selling or buying win jackets, they will be struck down from registration database, and prosecuted under the law, because win jackets are given to respective individuals and cannot be sold to anyone else."
Maj.Gen. Abhirat added that more than 120,000 motorcycle taxis have registered with the NCPO. They will be given new set of NCPO-issued jackets by the end of October, Maj.Gen. Abhirat said.
The NCPO is also concerned with "mafia" who extort "protection money" from motorcycle taxis in certain areas, he said. Maj.Gen. Abhirat advised all motorcycle taxis drivers to notify the junta immediately if they encounter such behavior. He added that motorcycle taxi drivers who charge their passengers exorbitant fares will be likewise prosecuted by the NCPO.
"I have instructed a number of undercover officers to inspect all 50 districts [of Bangkok] to determine whether there are still extortionate fares," Maj.Gen. Abhirat said. "They will hire a driver from one win to another place and ask many details in manner to establish whether they follow the laws and regulations. The drivers will never know that these are military officers."
He added, "We are concerned with fairness that the public receives, in accordance with Gen. Prayuth Chan-ocha, the leader of the NCPO, who wants to return true happiness to the people."
According to a research by Italian scholar Claudio Sopranzetti, there are at least 200,000 motorcycle taxis in Bangkok and there are more trips made on motorcycle taxis per day than on the Skytrain and subway combined.
Mr. Sopranzetti's research indicates that many of the motorcycle taxi drivers hail from the countryside and supported the populist government of former Prime Minister Thaksin Shinawatra. After Mr. Thaksin was deposed in the 2006 military coup, many of them lent their support to the Redshirt political movement and played a significant role in the 2010 Redshirt protests as demonstrators, transporters, and scouts.
"The motorcycle taxis have to choose whether they are Redshirts or people who simply want to make a living," said Mr. Sopranzetti. "Because the NCPO regulation benefits one identity and damages the other."
According to Mr. Sopranzetti, many Redshirt motorcycle taxi drivers are viewing the NCPO's new regulations pragmatically, welcoming the the crackdown on underground mafia.
For comments, or corrections to this article please contact: [email protected]
You can also find Khaosod English on Twitter and Facebook
http://twitter.com/KhaosodEnglish
http://www.facebook.com/KhaosodEnglish