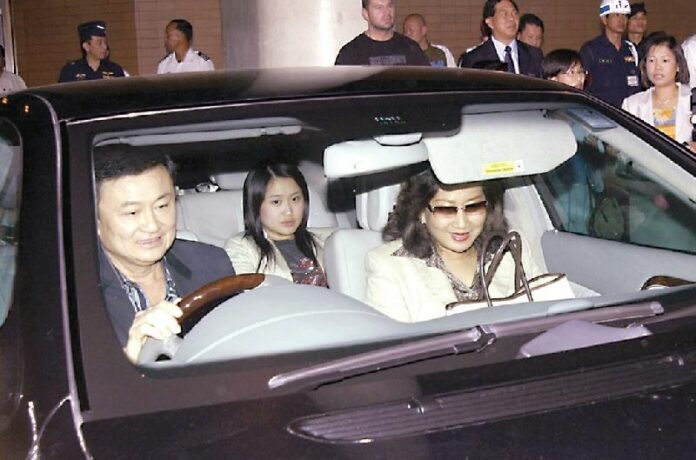 BANGKOK — Former Prime Minister Thaksin Shinawatra has reportedly told political aides to stay away from his 64th birthday party, which is expected to take place in France on 26 July.
Sources inside the Thaksin-allied Pheu Thai Party say the former leader has made it clear that Redshirt leaders and Pheu Thai politicians are not welcome to the birthday party in Paris; Mr. Thaksin has reportedly requested that only family members attend the celebration.
"He did not want any trouble and did not want [Redshirt politicians] to draw attention from the NCPO," a source explained, referring to the military junta's National Council for Peace and Order, which overthrew the government allied to Mr. Thaksin on 22 May.
Mr. Thaksin's birthday has traditionally been celebrated with great fanfare by Redshirt supporters, who organised religious ceremonies at local temples on his behalf, and Pheu Thai politicians, who flew to attend his birthday party in whichever country he was residing in at the time.
The former leader was deposed in a 2006 military coup and has been living in a self-imposed exile since 2009 to avoid corruption convictions. Nevertheless, Mr. Thaksin retained much influence over the successive governments led by his trusted proxies, including his younger sister Former Prime Minister Yingluck Shinawatra.
Yingluck free to leave
The military junta recently approved Ms. Yingluck's request to travel abroad, presumably to attend her brother's birthday party this Saturday.
However, there are speculations that Ms. Yingluck intends to leave Thailand for good — following her brother's footsteps — after the National Anti-Corruption Commission (NACC) found her guilty of negligence in regards to her government's controversial rice-pledging scheme last week.
The NACC claims that corruption associated with the program has cost the state more than 500 billion baht in damages and that Ms. Yingluck did nothing to stop the malfeasance. The case will now be sent to the Office of the Attorney-General, who will pursue charges under Article 157 of the Criminal Codes against Ms. Yingluck in Criminal Court. If convicted, Ms. Yingluck could face a maximum prison term of 10 years and a fine of 20,000 baht.
A recent opinion survey reveals that a majority of Thais believe Ms. Yingluck will not return from her trip to Europe, although Ms. Yingluck insisted that she would be back to fight her case in court.
Sources close to Ms. Yingluck say that the former Prime Minister and her 13-year-old son are due to leave Thailand at 1 am on 23 July. Her itinerary includes a visit to Germany, Belgium, France, the United Kingdom, and the United States, according to the sources.
Some of Ms. Yingluck's critics have criticised the NCPO for allowing her to leave while she faces a trial in Thailand.
But Gen. Teeradech Meepian, former deputy of the now-dissolved Senate, defended the decision and said the NCPO is certain Ms. Yingluck is merely going on a vacation trip.
"Both the NCPO and the NACC have considered [Ms. Yingluck's permission to travel] to be appropriate," Gen. Teeradeth said, "I believe it's not a plan to free the tiger into the forest as many people have criticised or speculated."
For comments, or corrections to this article please contact: [email protected]
You can also find Khaosod English on Twitter and Facebook
http://twitter.com/KhaosodEnglish
http://www.facebook.com/KhaosodEnglish