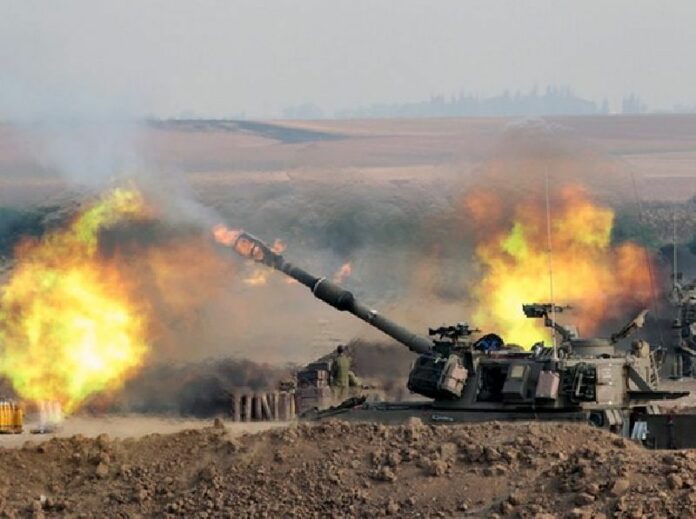 By Ofira Koopmans
TEL AVIV (DPA) — At least 23 Palestinians were killed before dawn Thursday on the 17th day of the Israeli offensive in the Gaza Strip amid reports that both sides in the conflict might be inclined towards accepting a five-day humanitarian truce.
Six children and 10 members of one family were among those killed in airstrikes on the strip, Gaza Health Ministry spokesman Ashraf al-Qedra said.
The Israeli military said its soldiers fought with several groups of militants as ground forces were searching for attack tunnels. So far, 31 tunnels leading from Gaza under the border into Israel have been exposed and nine of them blown up, it said. The tunnels are currently the main focus of Israel's ground offensive, begun one week ago.
The London-based Asharq Al-Awsat newspaper quoted a Hamas source as saying that the Islamist movement in control of Gaza was inclined to accept a Palestinian Authority proposal for a five-day humanitarian ceasefire, during which Hamas and Israel would try to indirectly negotiate terms for a longer-term, real truce.
"The ball is now in Israel's court," the leading international Arabic paper quoted the source as saying.
An Israel Radio reporter said he was told by several members of Prime Minister Benjamin Netanyahu's seven-minister security cabinet that they too were inclined to accept the deal. The members cautioned that it would take another 48 to 72 hours to see if such a deal would take shape.
Qatar-based Hamas leader Khaled Mashaal said in Doha late Wednesday that his movement would not accept a truce before Israel and Egypt lift the blockade of the coastal enclave.
But he did not rule out a temporary humanitarian truce.
Mashaal hailed as an achievement that dozens of flights had been cancelled to Israel's Ben Gurion International Airport near Tel Aviv because of a rocket fired from Gaza.
Israel pleaded with the United States and Europe to resume flights to the airport, insisting it was safe.
The US Federal Aviation Administration overnight announced it was lifting its restrictions on US flights into and out of Israel.
But the agency said it would continue to closely monitor "the very fluid situation around Ben Gurion Airport and will take additional actions, as necessary."
Israel welcomed the decision and said it was in contact with Europe to do the same.
Thousand of Israelis have been stranded abroad or were sent home from airports inside Israel despite having booked flights.
"Those who were trying to impose an air siege on Israel have failed," Transport Minister Israel Katz told Israel Radio in a direct nod at Mashaal. "Israel's skies are safe."
US Secretary of State John Kerry, who held talks in Jerusalem and Ramallah Wednesday, reported some progress in efforts to broker a truce. He later headed back to Egypt, which has been leading the ceasefire efforts.
Hamas "will not accept any [ceasefire] proposal that does not lift the siege from our people" in Gaza, Mashaal said in Doha.
"We are the prey, not the predator," he said.
"Any humanitarian truce has to have a specific and real relief programme," he said, "We will be the most interested in that."
But he warned his movement would not be "tricked" into accepting a ceasefire under the guise of a humanitarian truce. It would insist on its terms, which also include a prisoners release, he said.
The Gaza death total, meanwhile, kept climbing, reaching 718 by Thursday morning, al-Qedra said. The number of injured has risen to 4,553.
Twenty-nine Israeli soldiers have died during ground fighting. Two Israeli civilians and a foreign worker have been killed by missiles and mortars from Gaza. Scores have been injured.
The migrant worker killed was from Thailand. Its Foreign Affairs Ministry on Thursday advised other Thais employed within 20 kilometres of the Gaza Strip to immediately stop working and remain indoors.
Farm worker Narakorn Kitiyangkul was resting on his lunch break Wednesday in Ashkelon when mortar rounds fired from Gaza landed near him.
In Geneva, the UN Human Rights Council said it would dispatch a commission to investigate abuses allegedly committed by Israel after a resolution passed by Arab and developing countries. Western countries abstained or voted no.
"A number of incidents along with the high number of civilian deaths belies the claim that all necessary precautions are being taken to protect civilian lives," said Navi Pillay, the UN's top human rights official. "All these dead and maimed civilians should weigh heavily on all our consciences."