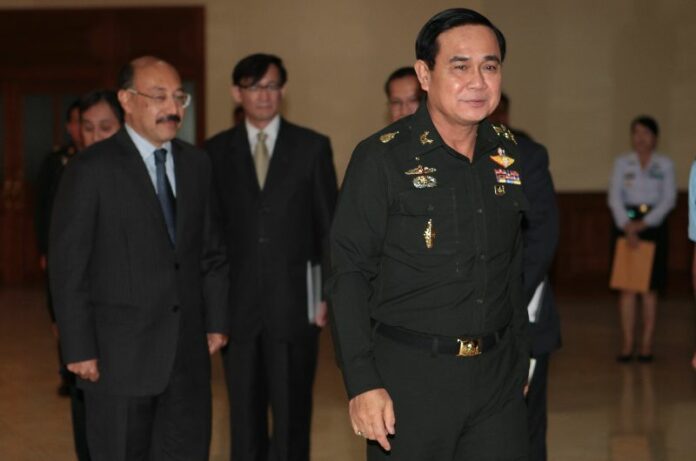 BANGKOK — A top official has dismissed criticism from the US-based Human Rights Watch that Thailand's new provisional constitution grants superfluous power to the country's military junta.
The forty-fourth article the 2014 Interim Constitution states that the National Council for Peace and Order (NCPO) can unilaterally intervene and take any action to protect the Kingdom against "threats" to its national security, monarchy, public order, and economy – without seeking approval from the civilian government.
The NCPO is permitted to intervene "regardless of its effects on the legislative, executive or judiciary," and all orders or acts "are to be regarded as lawful and constitutional," the article says.
The New York-based rights group Human Rights Watch released a public statement today condemning what it's calling a "charter for dictatorship."
"Instead of paving the way for a return to democratic, civilian rule, the Thai junta has granted itself unchecked authority to do almost anything it wants, including committing rights abuses with impunity," said Brad Adams, Asia director at Human Rights Watch (HRW).
But Sihasak Puangketkaew, Thailand's Permanent Secretary of the Ministry of Foreign Affairs, says that HRW misunderstood the interim charter and the situation in Thailand.
"Human Rights Watch should understand that right now we are going through a period of transition, which requires peace and stability," Mr. Sihasak said in an interview today.
According to Mr. Sihasak, "every country" has a law that allows the authorities to intervene and solve problems when the security of the nation is under threat, but that does not mean that such intervention will happen.
"Please understand the context of Thai politics," Mr. Sihasak advised, "Don't reach a conclusion too fast. Right now there has not been any invocation of said power [by the NCPO]."
For comments, or corrections to this article please contact: [email protected]
You can also find Khaosod English on Twitter and Facebook
http://twitter.com/KhaosodEnglish
http://www.facebook.com/KhaosodEnglish