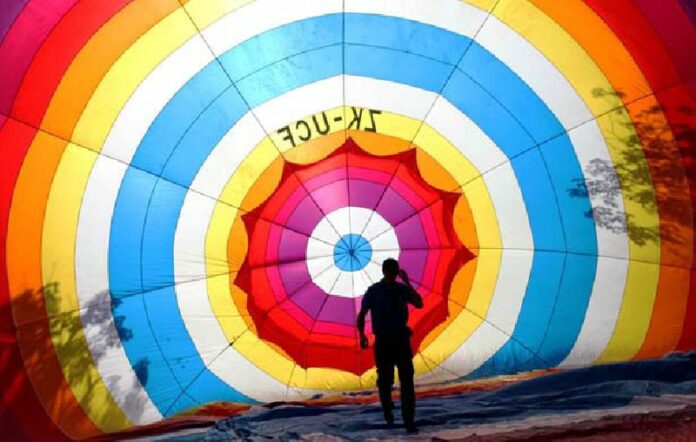 CHIANG MAI, Thailand, July 10, 2014 – Andrew Parker, a balloon pilot shows hot balloon for children with disabilities in Chiang Mai today. Parker, the founder of Flying High for Kids, will go to 100 countries in next 4 years to help UNICEF promote children's rights. He shares postcards collected from children around the world so the children can learn and accept different cultures.
The Flying High For Kids World Balloon Project is a not-for-profit, four-and-a-half year international project in support of UNICEF, which started in December 2013. It is an overland hot air ballooning journey through more than 100 countries. The Flying High For Kids Team will take a hot air balloon with UNICEF branding to schools and UNICEF projects, with an aim of raising awareness and funds for UNICEF's work, particularly their Schools for Africa and Schools For Asia Programmes. The project has the full support of UNICEF and the project team will be working closely with them throughout.
UNICEF operates in almost every country, at all levels, from grassroots to implementing government policy. We will be working with UNICEF offices in many of the countries we go to, liaising and getting direction from them.
We expect to gain considerable media attention during this project. We will be working with UNICEF offices in each participating country we go to, who will help us liaise with media through their contacts. UNICEF offices will also guide us and provide logistical support in each participating country we travel to.
Schools will be a big theme during our project. We will link first and third world schools around the world by flying or tethering at various schools and exchanging communications between them, giving kids the opportunity to learn about a different way of life to their own.
Throughout the project, the Flying High For Kids Team will be able to witness UNICEF's work first hand, and will keep track of progress being made on various projects over time.
We will be blogging about our progress in our blog section of this website, so make sure to follow the journey.
The Flying High For Kids Team are hoping to help make people aware of what is going on in the world and to give a broader view of the global community we live in.