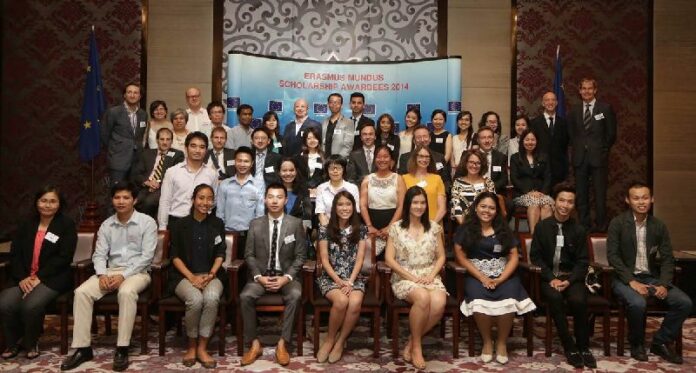 The European Union (EU) has awarded its 'Erasmus Mundus (EM)' scholarships for 2014 to 58 Thai academics. These Thai students and scholars will benefit from the full scholarships to cover their Bachelor's, Master's, Doctorate and Post-Doctorate studies at European universities during the coming academic year, 2014/ 2015. Their fields of study include, amongst others, subjects like business management, political science, humanities, agriculture, biology, chemistry and software engineering. Since the start of the EU's Erasmus Mundus programme in 2004, more than 600 Thai students and scholars have been granted such scholarships.
At the EU's annual Erasmus Mundus reception on 9 July 2014 in Bangkok, Ambassador Jesús Miguel Sanz, Head of the Delegation of the European Union to Thailand, congratulated all awardees. "Erasmus Mundus alumni and awardees in Thailand have a good understanding of Europe. EM alumni have friends there, enjoy the European food and, in many cases, speak one (or more) European languages. They return to Thailand, start their working life and contribute to the Thai society.
Today's awardees too can play a valuable role, tomorrow, in bringing Thailand and Europe closer together," Ambassador Sanz said. He also suggested that awardees contacted Ambassadors or representatives from European Union member states and members of the Erasmus Mundus Alumni Association, who have experience in studying in European countries, as a preparation before departure.
At the reception, EM alumni and awardees were networking with Ambassadors of Austria, Belgium, the Czech Republic, Portugal, Sweden and the UK; representatives of other EU Embassies; of the EU-ASEAN Business Centre (EABC); and of the European private sector in Thailand.
Background
Erasmus Mundus is the European Union's flagship cooperation and mobility programme in the field of higher education. It aims to enhance the quality of higher education and promote dialogue and understanding between people and cultures through mobility and academic cooperation.