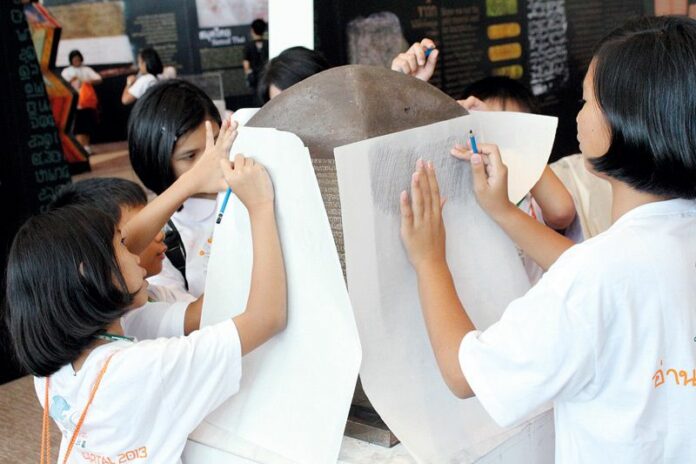 BANGKOK — The leader of Thailand's military junta has urged Thai people to be proud of their linguistic heritage on the occasion of National Thai Language Day.
In a radio address this morning, Gen. Prayuth Chan-ocha, who chairs the ruling National Council for Peace and Order (NCPO), said that Thai language is a central feature of "Thainess" and a testament to Thai civilization.
He pointed to His Majesty the King as an exemplar of Thai language mastery.
"His Majesty the King has bestowed many ideas for Thai subjects to preserve and correctly use Thai language," Gen. Prayuth said.
National Thai Language Day is a tribute to His Majesty the King's speech to Chulalongkorn University's Faculty of Arts on 29 July 1962, in which he advised Thai people to preserve the "purity" of Thai language.
Gen. Prayuth also urged Thai people to be proud of their language because very few nations have a language of their own.
"I would like to stress to the people and youths of the nation to always remember: Thailand is one of few countries in the world that has its own language, both written and oral," Gen. Prayuth said. "It is a precious heritage handed down for more than 700 years. Everyone should be proud."
Thai language is one of approximately 7,000 languages in the world. It is heavily influenced by Indochinese languages, borrowing structures and words from Khmer, Pali, Tai, and other regional tongues.
According to official Thai historiography, the Thai language was invented in the 13th century by King Ramkhamhaeng of Sukhotai Kingdom, who reportedly displayed his command of the language on a stone inscription, now considered the earliest evidence of written Thai language.
For comments, or corrections to this article please contact: [email protected]
You can also find Khaosod English on Twitter and Facebook
http://twitter.com/KhaosodEnglish
http://www.facebook.com/KhaosodEnglish