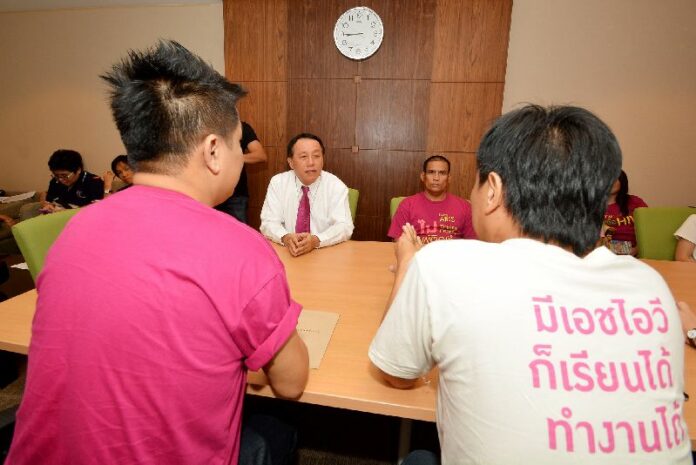 BANGKOK — Two HIV/AIDS support groups say a hotel in Bangkok discriminated against their members by denying them service, despite having hosted the groups' events for years.
AIDS Access Foundation and Thai Plus Network filed a complaint to the National Human Rights Commission (NHRC) yesterday, urging the commission to investigate the matter.
According to the complaint, in early July the Town in Town Hotel in Bangkok's Ram Intra district refused to allow the HIV/AIDS groups to hold events on their premises, citing "new administrative policies." AIDS Access Foundation and Thai Plus Network, along with other HIV support groups, had been hosting seminars at the Hotel for the past four years.
Nimit Tien-udom, director of AIDS Access Foundation, said hotel staff informed him that they have received many complaints from guests who were uncomfortable sharing facilities with HIV patients.
"They explained that some customers are worried and uncomfortable as soon as they see the names of our groups," Mr. Nimit told the NHRC yesterday.
Mr. Nimit accused the hotel of discrimination, which he said is a setback to his group's ongoing effort to change public perceptions about the disease.
"Our policies would never be successful if we still have prejudice and disgust toward people with the virus [HIV/AIDS], or if we still have the misunderstanding that drinking and eating side by side with [HIV/AIDS patients] will transmit the virus," Mr. Nimit said.
According to Abhiwat Kwangkaew, chairman of Thai Plus Network, the groups decided to seek help from the NHRC after the hotel's executives repeatedly refused to meet and settle the matter in person.
"We do our duty today because we feel our rights have been violated. It reflects that much of the society does not understand about co-existence," Mr. Abhiwat told Khaosod English. "AIDS can be healed and HIV can be prevented nowadays, but society still has an outdated understanding of the disease."
Mr. Abhiwat said he is willing to accept the measure if hotel staff can prove that the groups' presence in the hotel genuinely affected other hotel guests. "They have to talk to us clearly," he said.
He continued, "I hope this incident will be a wake-up call for more campaigns for better understanding about HIV and AIDS. We want it to be a lesson, not just a problem that gets solved and forgotten. We want society to learn from this."
National Human Rights Commissioner Thaejing Siripanich said NHRC will investigate the complaint and invite Town in Town Hotel executives for a discussion.
According to Mr. Thaejing, refusing service to HIV/AIDS support groups without a clear reason is considered discrimination.
"Discrimination shouldn't happen in society," Mr. Thaejing said, "Because it makes co-existence very difficult. There is no law that forbids infected people from using facilities with other people."
Although the NHRC has no legal authority to take any action against the hotel, it can assist the HIV groups in court if they choose to file a lawsuit related to the incident, Mr. Thaejing said.
Mr. Abhiwat, the HIV/AIDS activist, said the networks currently have no plans to take legal action.
Thailand has one of the highest rates of HIV/AIDS in Asia, partly due to the widespread practices of unprotected sex and hypodermic needle drug use. According to the Bureau of Epidemiology, more than 1.2 million people in Thailand are living with HIV, yet only 250,000 patients are being treated for the disease. The kingdom sees around 10,000 new cases of HIV per year.
An international survey commissioned by US-based Planned Parenthood Foundation in 2011 shows that up to 62 per cent of young people in Thailand have unprotected sex with new partners.
For comments, or corrections to this article please contact: [email protected]
You can also find Khaosod English on Twitter and Facebook
http://twitter.com/KhaosodEnglish
http://www.facebook.com/KhaosodEnglish