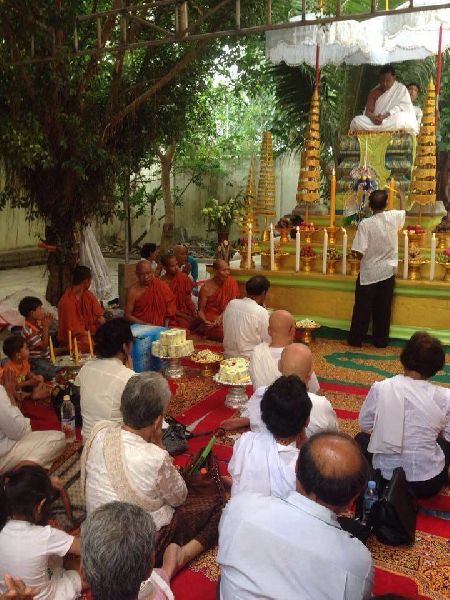 SA KAEO — Reports of Thai pilgrims flocking to pay homage to a Cambodian man who claims to be a reincarnation of Lord Buddha has raised the alarm of Thai army officials and religious leaders.
Col. Lerpong Siriwat, deputy commander of the Internal Security Operation Command (ISOC) in the border province of Sa Kaeo, said yesterday that he has received reports of Thais crossing the border to worship the Cambodian "saint."
The colonel said he has also obtained photos of the man that show him surrounded by followers at Taun Raja Temple in Kandal province of Cambodia. Murals on the temple's walls suggest the monk is a reincarnation of Lord Buddha following his return from Nirvana.
"Many Thais have been duped into believing that this man has divine power, or that he is the reincarnation of Lord Buddha," Col. Lerpong said. "So I am warning Thai people to be aware of the issue. Don't be duped by stories of his miracles. You may be fooled into losing your money."
A Cambodian history expert based in Sa Kaeo province told Khaosod that the man in question is known by locals as Phra Kru Thammachan. His real name is Thian Wutthi.
Mr. Thian, 65, is related to a well-known Cambodian politician, and many local administrators and politicians have paid visit to him in the temple, said the expert, who requested anonymity.
"It's impossible for Buddha to be reincarnated," said Phra Kru Sumon Thammakun, abbot of Koke Tabaeng Temple in Sa Kaeo province. "Buddha spent more than 500 lives before he finally reached Enlightenment, and he has already gone to Nirvana long ago."
Phra Kru Sumon said he has urged Cambodians and Thais who visited his temple to refrain from making a pilgrimage to Mr. Thian's temple.
"Buddhists should use their wisdom to decide what to believe, what not to believe," he said.
For comments, or corrections to this article please contact: [email protected]
You can also find Khaosod English on Twitter and Facebook
http://twitter.com/KhaosodEnglish
http://www.facebook.com/KhaosodEnglish