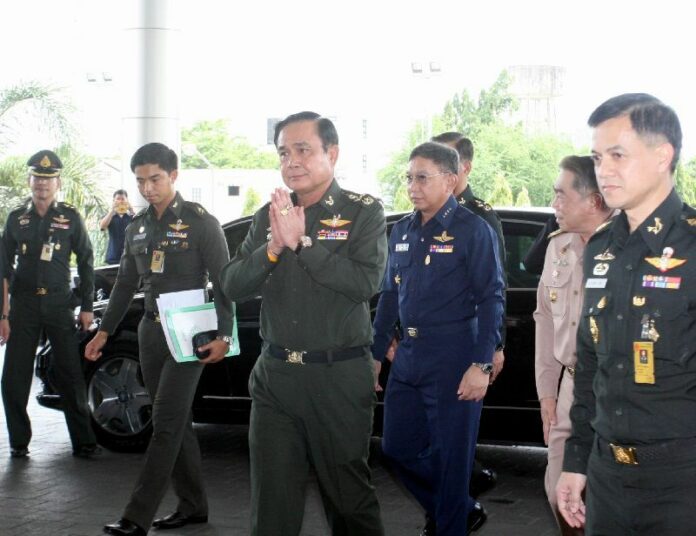 BANGKOK – Military junta leader Gen. Prayuth Chan-ocha appointed his brother as lawmaker in the provisional parliament; now his brother may vote Gen. Prayuth as the new Prime Minister.
Gen. Preecha Chan-ocha, commander of 3rd Region Army and newly-appointed member of the National Legislative Assembly (NLA), said today that the new Prime Minister should be someone who "performs his duty with purity," is "transparent." without "improper behaviour."
In Gen. Preecha's view, his brother possesses all these qualifications.
"I personally think that Gen. Prayuth is a good man," Gen. Preecha told reporters as he arrived at House of Parliament today to report for his duty as an NLA member.
The lawmaker expressed his concern that the premiership may be too demanding for Gen. Prayuth, as he is also serving as the commander of the Royal Thai Army and chairman of the junta's National Council for Peace and Order (NCPO), but he noted that the burden would be eased when Gen. Prayuth's tenure as army chief expires in October.
"It depends on whether the majority of the NLA thinks Gen. Prayuth is appropriate [for the premiership]," Gen. Preecha said.
Under the junta-drafted 2014 interim charter, the NLA, whose members were handpicked by the NCPO, is tasked to appoint a new Prime Minister and Cabinet members for the provisional government. The NLA has not set a date for the vote, but it is understood to take place within August.
A majority of the assembly's members (115) are high-ranking male military and police officers like Gen. Preecha, while the rest consists of bureaucrats, former politicians, business owners, and academics.
High-ranking officials have hinted that Gen. Prayuth is a potential candidate as the new Prime Minister, including the Supreme Patriarch of Thai Buddhism. A number of state-owned media agencies also published surveys claiming that a majority of respondents thinks Gen. Prayuth is capable of serving as the leader of the new government.
For comments, or corrections to this article please contact: [email protected]
You can also find Khaosod English on Twitter and Facebook
http://twitter.com/KhaosodEnglish
http://www.facebook.com/KhaosodEnglish