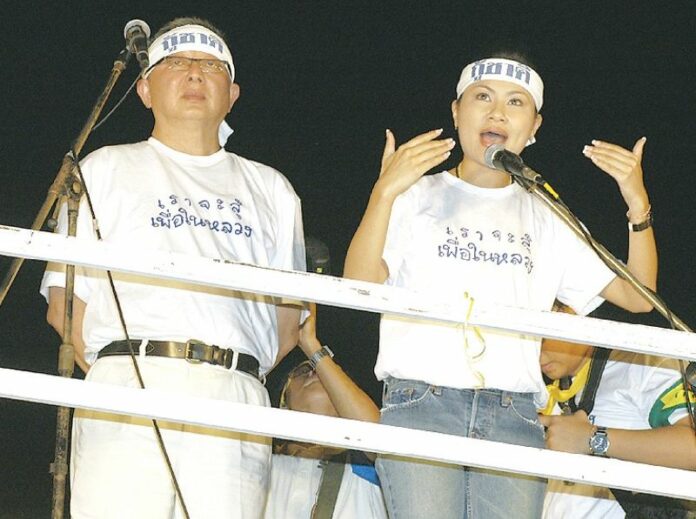 BANGKOK — Sondhi Limthongkul, the founder of the "Yellowshirt" political movement that campaigned against government corruption, was convicted of fraud and falsifying loan documents today.
Mr. Sondhi and two other executives of Manager Media Group, of which Mr. Sondhi is a founder, were deemed guilty by the Court of Appeals today for falsifying an internal memo that allowed the company to guarantee a 1.078 billion baht loan from Krung Thai Bank to the The M Group, a company that Mr. Sondhi held shares in.
The M Group later defaulted on the loan, forcing Manager Group to pay back the massive debt.
In 2000, the Securities and Exchange Commission (SEC) sued Mr. Sondhi and his associates, Saowalak Teeranuchanyong and Yupin Chantana, for deliberately hiding the loan guarantee from the financial statement the company filed to the stock market. The other executives of Manager Group were not aware of the transaction, the SEC said. The lower court found the defendants guilty, sentencing Mr. Sondhi and Ms. Saowalak to 42 years in prison, while Ms. Yupin was sentenced to 32 years.
The defendants appealed the ruling, but today, Thailand's Court of Appeals ruled in favour of the lower court's verdict, dismissing the defendants' claim that they had no intention of committing fraud. According to the judges, the defendants' actions were a grave violation of Thailand's stock market regulations.
The judges also reaffirmed the prison sentence handed down by the lower court. However, as Thai laws only allow a maximum of 20 years in prison as a punishment for civil cases, the defendants' jail sentences have been accordingly reduced to 20 years.
Mr. Sondhi contested the ruling and is currently awaiting the court's decision on whether he will be granted a bail release, according to his lawyer, Suwat Abhaibhakdi.
After his political talk show was axed from the state-owned Channel 9 TV, Mr. Sondhi embarked on a campaign against the government of Prime Minister Thaksin Shinawatra in 2005.
Mr. Sondhi founded the People's Alliance for Democracy (PAD), which later became known as the Yellowshirts for adopting yellow – His Majesty the King's personal colour – as the group's symbol. Mr. Sondhi accused Mr. Thaksin of corruption, abuse of power, and plotting to overthrow the monarchy.
Street protests led by the PAD eventually led to the military coup against Mr. Thaksin on 19 September 2006. Mr. Sondhi returned to the political spotlight in 2008 when he led the PAD campaign against the pro-Thaksin government of former PM Samak Sundaravej. The PAD achieved its victory when the court issued two rulings that removed both Mr. Samak and then the next Prime Minister, who was also allied to Mr. Thaksin, from office.
Mr. Sondhi later announced the disbandment of the PAD in 2009 and has kept a low profile ever since.
For comments, or corrections to this article please contact: [email protected]
You can also find Khaosod English on Twitter and Facebook
http://twitter.com/KhaosodEnglish
http://www.facebook.com/KhaosodEnglish