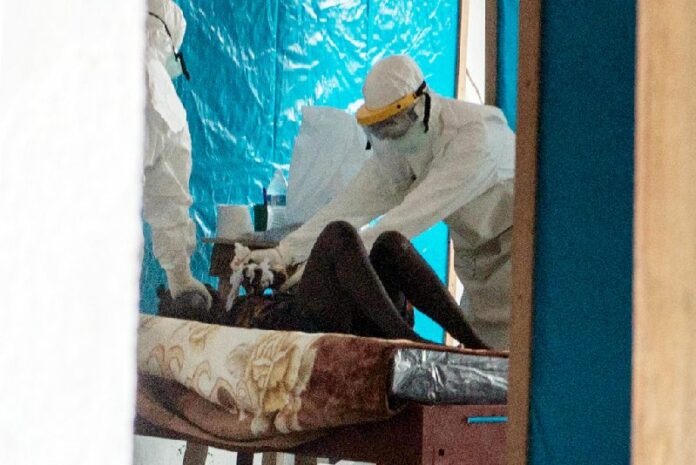 UN News Center
GENEVA – The UN health agency today began an emergency meeting of international medical and health experts in Geneva to review the current Ebola virus disease outbreak in West Africa amid reports that new cases and deaths continue to be reported in Guinea, Liberia, Nigeria, and Sierra Leone.
Between 2 and 4 August 2014, a total of 108 new cases of Ebola virus disease (laboratory-confirmed, probable, and suspect cases) as well as 45 deaths were reported from Guinea, Liberia, Nigeria, and Sierra Leone, according to the latest update released today by the UN World Health Organization (WHO).
The breakdown from the four countries was reported as follows: Guinea, 10 new cases and 5 deaths; Liberia, 48 new cases and 27 deaths; Nigeria, 5 new cases and 0 deaths; and Sierra Leone, 45 new cases and 13 deaths.
As of 4 August 2014, the cumulative number of cases attributed to Ebola in the four countries stands at 1, 711, including 932 deaths.
Speaking earlier to UN Radio, WHO spokesperson Fadela Chaïb, said more cases were being discovered every day and thus far, the chain of transmission has not been broken.
"If we don't put all our weight [behind this] and mobilize all our resources – human, logistic and financial ¬– to help West Africa deal with this disease that was [heretofore unknown in the region] it will be difficult for the affected countries, their economics and populations to fight alone," she added.
Meanwhile in Geneva, members of the Emergency Committee of International Experts reviewing the outbreak, will receive an epidemiological briefing and advise WHO Director-General Margaret Chan whether the Ebola outbreak is a so-called Public Health Emergency of International Concern (PHEIC).
"If it does," according to a WHO spokesperson, "then the committee would recommend to the Director-General of WHO to declare it a public health emergency of international concern and recommend appropriate temporary measures to reduce international spread" of the virus.
A summary of the two-day meeting will be made public and WHO has scheduled a press conference with Dr. Keiji Fukuda, WHO Assistant Director-General for Health Security at 9 a.m. Geneva time on Friday, 8 August, on its outcome.
WHO reported today that in a briefing with representatives from member States on Tuesday it outlined the essential components for control, including the need for national leadership, improved care and case management, identifying transmission chains and stopping disease spread, and preventing further outbreaks.
Among the critical issues are: cross-border infections and travellers; partners reaching the limits of their capacity and ability to respond rapidly, safely, and effectively; and concerns about the socio-economic impact of continued transmission.
Director-General Chan also shared information from her August 1 meeting in Guinea with West African leaders and the common strategies to eradicate Ebola from the sub-region. The response would focus on the treatment of Guéckédou, Kenema, and Foya as a unified sector, which will include public health measures meant to reduce movement in and out of the area; intensifying current measures; and taking steps to reduce international spread to other countries in Africa.
While in Guinea, Dr. Chan also launched a $100 million Ebola Virus Disease Outbreak Response Plan in West Africa.
Meanwhile, in Guinea, exit screening is currently being tested, in partnership with the United States Centers for Disease Control and Prevention (CDC).
In Liberia, security issues continue to be of concern, as community resistance remains high.
In Nigeria, the Government is focused on following up the contacts from the first patient.
And in Sierra Leone, efforts are underway to map where treatment centres and laboratories are most needed and getting those set up.
Sudden onset of fever, intense weakness, muscle pain, headache and sore throat are typical signs and symptoms of Ebola. This is followed by vomiting, diarrhoea, rash, impaired kidney and liver function, and in some cases, both internal and external bleeding.
WHO says the incubation period, or the time interval from infection to onset of symptoms, is from 2 to 21 days. The patients become contagious once they begin to show symptoms. They are not contagious during the incubation period.