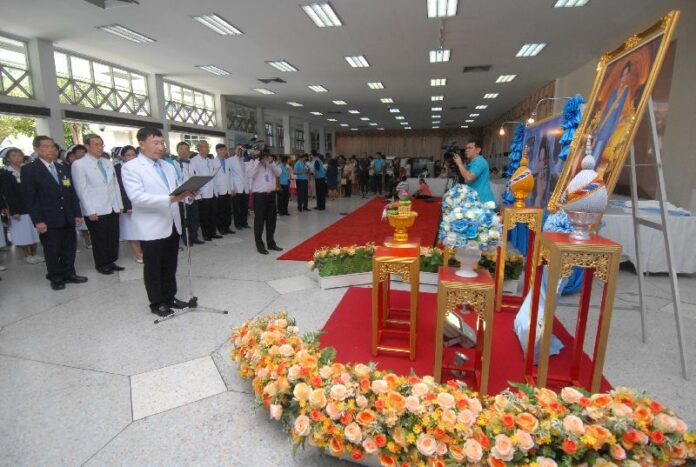 BANGKOK — A top doctor at Bangkok's Siriraj Hospital has told the public not to worry about His Majesty the King's difficulty eating, insisting it is normal for a person of his advanced age.
The Royal Household Bureau said in a statement on 11 August that doctors have begun providing the 86-year-old monarch with nutrients through his blood stream after he experienced difficulty digesting food.
The statement raised concerns about the health of King Bhumibol, who has been residing at Bangkok's Siriraj Hospital since 6 August, reportedly for an annual medical examination.
But Udom Kachinthorn, the director of Siriraj Hospital's Faculty of Medicine, said yesterday that it is common for the elderly to experience difficulty eating.
"I don't want people to be worried. Some people are alarmed by the latest statement. They wonder why we have to give [His Majesty the King] nutrients via his blood vessels," Dr. Udom told reporters yesterday.
He continued, "It is because His Majesty the King is already old. His eating habits are in accordance with the nature of an elderly person. To use commoners' language: he doesn't eat much. Because he doesn't eat much, his health worsens, just like ordinary elderly people."
Dr. Udom said the medical team decided to provide His Majesty the King with nutrients intravenously to quickly improve his health, "so that the people will see His Majesty in good health, and will not have to worry anymore."
Apart from difficulty eating, His Majesty the King has no other health issues at the moment, Dr. Udom said. He also stressed that King Bhumibol only visited the hospital for his annual medical check-up, which requires special equipment.
"His Majesty had no condition that requires hospitalisation," Dr. Udom told reporters.
He also hinted that the king will make a public appearance "within one or two weeks." However, the doctor said it would be up to His Majesty to decide whether he returns to his summer retreat, Klai Kang Won Palace, or continues his stay at the hospital.
King Bhumibol previously spent several years at Siriraj Hospital to undergo surgery and other medical operations, before being discharged on 1 August 2013. For the past year, he has been recovering at Klai Kang Won Palace, an approximately two-hour drive south of Bangkok.
His Majesty the King's health is a cause of anxiety for many Thais. The monarch has been on the throne for more than 60 years and is widely credited with bringing stability to the kingdom.
Her Majesty the Queen, who turned 82 yesterday, is also said to be in frail health and has not made any public appearances in the past year.
However, Her Majesty was seen accompanying the king in the royal motorcade to Siriraj Hospital last week.
According to Dr. Udom, Queen Sirikit is not receiving any medical treatment at the hospital and is only there to provide "moral support" to her husband.
"At this moment, Her Majesty has a good health. She can walk normally," Dr. Udom said, "She just does not wish to make public appearances. This is Her Majesty's wish. The people should not be worried."