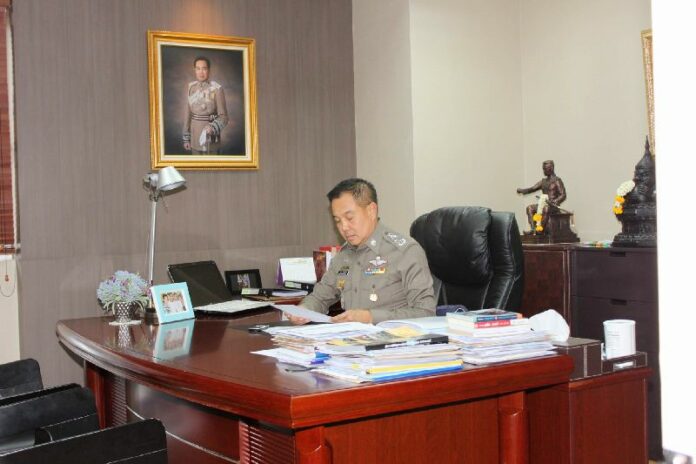 BANGKOK — A police officer known for his strong support of Thailand's military junta was appointed chief of the Royal Thai Police this morning.
Pol.Gen. Somyot Phumphanmuang, who has been serving as the deputy chief of the Thai police, was voted into the top job by a selection committee at the Royal Thai Army headquarters in Bangkok.
The selection committee was composed of a number of high-ranking officials and chaired by the leader of the junta's National Council for Peace and Order (NCPO), Gen. Prayuth Chan-ocha.
Another deputy commander of the Royal Thai Police, Pol.Gen. Ake Angsananont, was also vying for the position. While Pol.Gen. Ake was favored by some officials for his record of being tough-on-crime, Pol.Gen. Somyot was well-regarded for his work on cases that involve national security and the monarchy, a source at the meeting said.
Pol.Gen. Somyot also maintained a "close relationship" with Gen. Preecha Chan-ocha, commander of 3 Region Army and the brother of the NCPO's chairman, the source claimed.
After being selected for the post, Pol.Gen. Somyot told the press he wanted to be a police chief who ensures safety for people and "makes the public love the police."
"I was a boy born in the rural countryside," Pol.Gen. Somyot said. "It was already wonderful that I managed to step to the rank of Police General. Now that I am at this point, it's the greatest blessing in my life."
Defender of King and Junta
There has been speculation that Pol.Gen. Somyot would eventually take the top job in the Thai police force after the former chief, Pol.Gen. Adul Saengsingkaew, was "transferred" from his post following the 22 May military coup.
In the wake of the military takeover, Pol.Gen. Somyot was vilified by critics of the junta for cracking down on the anti-coup flash mobs that broke out in Bangkok's financial districts.
He broke up numerous peaceful anti-coup demonstrations and pursued legal action against protesters after they fled the scene.
In June, Pol.Gen. Somyot offered to give 500 baht to anyone who submitted photos from social media identifying anti-coup activists.
On another occasion, when asked about a woman who was abducted by plain-clothed police officers for flashing the forbidden three-finger salute, Pol.Gen. Somyot suggested she was in fact taken home by an angry husband.
Pol.Gen. Somyot has also coordinated police efforts to locate and prosecute suspects accused of insulting the Thai monarchy, an offense punishable by a maximum penalty of 15 years in prison.
His recent targets have included Apiwan Wiriyachai, former Deputy House Speaker under the previous administration, and Chatwadee "Rose" Amornpat, a Thai-born hairdresser living in the United Kingdom who regularly criticised the Thai Royal Family on social media.