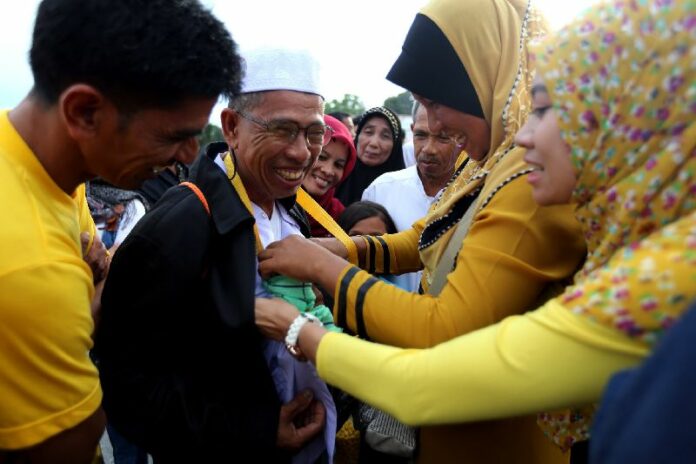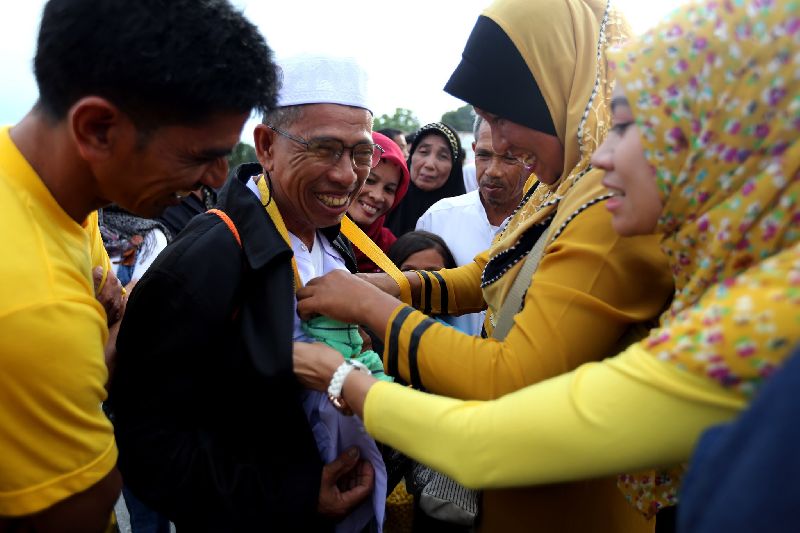 NARATHIWAT — Over 200 Thai Muslims departed for a religious pilgrimage to the Saudi Arabian city of Mecca today, despite ongoing tension between the Thai and Saudi governments.
A total of 577 pilgrims from Thailand's three Muslim-dominated southern border provinces – Narathiwat, Yala, and Pattani – are scheduled to participate in the holy pilgrimage this year, officials said.
Islamic faith requires that all Muslims make a pilgrimage to Mecca, known as a "Hajj," at least once in their lifetime.
Gen. Udomdej Sitabutr, sec-gen of the military junta's National Council for Peace and Order (NCPO), presided over a ceremony that bade farewell to the pilgrims before they left Narathiwat Airport for Medina, Saudi Arabia this morning.
The trip is funded by the Southern Border Provinces Administrative Centre (SBPAC) as part of an effort to improve the relationship between Thai authorities and local Muslims in Thailand's Deep South, which is home to a hotbed of Islamic insurgent violence that has killed more than 5,000 people in the past decade.
A number of Muslim leaders in Thailand previously expressed concern that Thai Muslims might be barred from taking up the Hajj due to a recent diplomatic row between Saudi Arabia and Thailand.
Abdulelah Al-Sheaiby, the Saudi Arabian embassy's Charge d'Affaires, was recalled from his post in July, four months after Thailand's Criminal Court found five Thai police officers not guilty of abducting and murdering a Saudi businessman who went missing in Bangkok in 1990.
Mr. Al-Sheaiby's deputy, Abdulsalam Alenazi, told Khaosod English that the recall was ordered to express the Saudi government's disapproval of the verdict and the court's last-minute change of judges. He added that Saudi officials have not decided when, and if, Mr. Al-Sheaiby will return to Bangkok.
The Saudi government imposed restrictions on travel and business dealings between the two kingdoms in the 1990s to protest Thailand's stalling investigation into the abduction of the Saudi businessman, Mohammad Al-Ruwaili.
However, Mr. Alenazi, who is now serving as the head of Saudi Arabian Embassy in Bangkok, confirmed that the Saudi Arabian government will not alter the existing agreement between the two kingdoms that allows Thai Muslims to participate in the pilgrimage to Mecca.
"Hajj is one thing that we don't touch," Mr. Alenazi told Khaosod English last week.
For comments, or corrections to this article please contact: [email protected]
You can also find Khaosod English on Twitter and Facebook
http://twitter.com/KhaosodEnglish
http://www.facebook.com/KhaosodEnglish