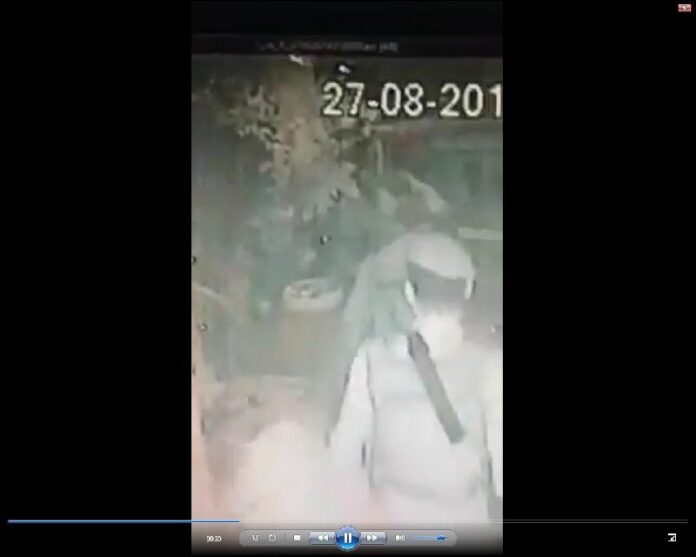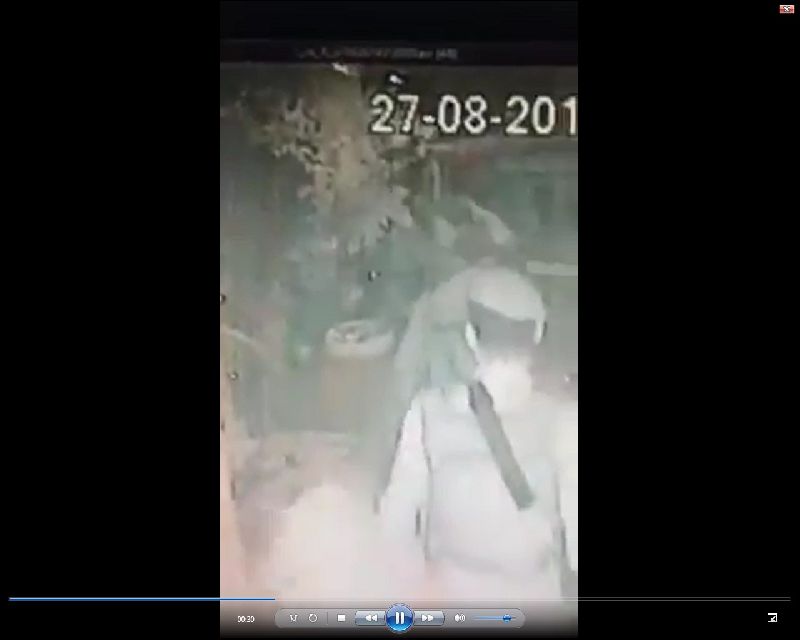 PATHUM THANI — Three security guards at a nightclub in Pathum Thani province say they were beaten by around 20 armed soldiers last night for telling their Army captain not to smoke inside the premises.
According to witnesses, the soldiers arrived at the nightclub on Rangsit – Nakhon Nayok Road in a Humvee and army truck at around 1 am last night.
CCTV footage from the crime scene shows more than a dozen soldiers armed with M16 rifle barge into the nightclub and brutally beat the security guards, who are also sergeants enlisted in the Royal Thai Air Force.
One of the victims, Sgt. Tossaporn Jaemsakorn, 29, told police that the soldiers were led by an officer who claimed to hold the rank of captain. The captain told them he was raiding the nightclub to look for suspected illegal substances, but then ordered his troops to assault Sgt. Tossaporn and his colleagues, the victims reported.
Sgt. Tossaporn said soldiers beat him with the end of their M16 rifles and trampled him with their combat boots. The captain also allegedly shouted at Sgt. Tossaporn that he was punishing him for "not showing respect."
According to Sgt. Tossaporn, two nights ago he approached a man who was smoking in the nightclub and informed him that the establishment has a strict no-smoking policy. The man became angry and said he was captain in command of troops in Pathum Thani, Sgt. Tossaporn said.The man then allegedly lit another cigarette, prompting Sgt. Tossaporn and his colleagues to escort him out of the nightclub.
Pol.Lt. Prapan Ruengsuwan, an officer at Pratunam Chulalongkorn Police Station, said witnesses told police that they were afraid to intervene and help because the soldiers were fully armed.
Pol.Lt. Prapan added that CCTVs in the nightclub clearly captured the moment of the assault. He said police investigation is ongoing.
Wassana Nanuam, a "military reporter" at the Bangkok Post, wrote on her Facebook that NCPO leader and Prime Minister Prayuth Chan-ocha has been informed about the assault at Pathum Thani nightclub.
According to Ms. Wassana, who is close to military circles, Gen. Prayuth has ordered an investigation into the incident.
Since the Thai army staged a military coup on 22 May, the military junta has regularly dispatched soldiers to perform law enforcement tasks alongside police, such as raiding suspected criminals' homes, confiscating illegal substances, and regulating public transportation.
For comments, or corrections to this article please contact: [email protected]
You can also find Khaosod English on Twitter and Facebook
http://twitter.com/KhaosodEnglish
http://www.facebook.com/KhaosodEnglish