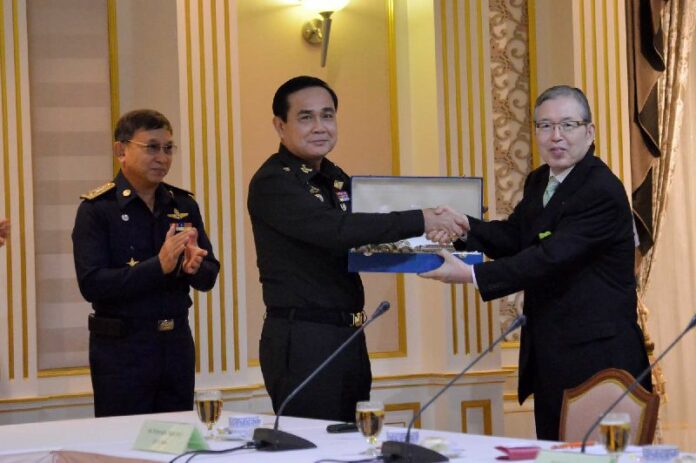 BANGKOK — Four days before lottery draw, tickets ending with the number "29" are flying off the shelf because of their association with Thai junta leader Gen. Prayuth Chan-ocha, who recently became the country's 29th Prime Minister.
In some provinces, the price of lottery tickets ending in "29" has been driven up to 500 baht per ticket — a steep increase from the usual price of 90-100 baht, and certainly higher than the junta's recommendation of 80 baht per ticket.
Some vendors said they have already sold out all the tickets ending in "29," even though the next round of lottery draw, 1 September, is four days away.
"I ran out of those tickets many days ago," said Amphai Kanchanarak, a lotto seller at a market in Ubon Ratchathani province.
Chatri Khun-in, a vendor who sells lottery tickets in Chiang Mai province, said that the numbers 21 and 60 are also highly sought after by lottery veterans because Gen. Prayuth was voted into the office as Prime Minister on 21 August and born on 21 March, making him 60 years old.
The craze has also sent a wave of panic across the Kingdom's underground lottery industry, which is even more popular than the state-owned lottery system.
One underground lottery coordinator in Surat Thani province told Khaosodthat all major dealers in the province have already stopped selling the "29" tickets because they are convinced the number will be drawn, which would force them to make a massive payout to their buyers.
"We are really surprised that the number has so many buyers. So, many big hands decided to stop taking the bets early. Usually, they only stop taking the bets on the day of the lottery draw," said the coordinator, who asked not to be named.
Lottery enthusiasts also rallied around numbers associated with Prime Minister Yingluck Shinawatra when she was in office, convinced that she has a supernatural ability to hint at winning lottery numbers.
However, many lottery veterans say they are more confident about betting on numbers that correspond to Gen. Prayuth because they believe the lottery system under the Thailand's military regime will be rigged to produce numbers that reinforce the Gen. Prayuth's charisma.
Since staging a military coup on 22 May, the junta's National Council for Peace and Order (NCPO) has ruled Thailand with undisputed authority. The NCPO has outlawed criticism of the regime, banned public protests, censored the media, and issued legal orders at will.
"Gen. Prayuth's number is the biggest number in years," said Mr. Chatri, a lotto vendor in Chiang Mai province. "Because he is the supreme sovereign authority. The new director of the Government Lottery Office is also a military officer. That makes Gen. Prayuth's number the biggest trend in many years."
Mr. Chatri added, "Right now, all the underground dealers are too scared to take bets anymore. Those who do just told their buyers that they will only pay out the rewards in half. It shows the power of Gen. Prayuth's number."
Officials at the Government Lottery Office dismissed speculation that Gen. Prayuth will somehow influence the outcome of the next lottery draw. They insisted that the lottery draw equipment is up to international standards and that every step of the draw procedure is transparent and observed by high-ranking officials.
Col. Winthai Suvaree, spokesperson of the NCPO, said he was disappointed by lottery vendors who used the craze around Gen. Prayuth's lucky number to greatly increase the price of their tickets.
"The Government Lottery Office has been asking for cooperation from vendors not to sell lottery tickets at an inappropriate price, but some sellers still sell them at a price much higher than [acceptable] rate," Col. Winthai said.
The spokesperson also advised buyers to "exercise their good judgment" before they decide to spend large money on lottery tickets.
For comments, or corrections to this article please contact: [email protected]
You can also find Khaosod English on Twitter and Facebook
http://twitter.com/KhaosodEnglish
http://www.facebook.com/KhaosodEnglish