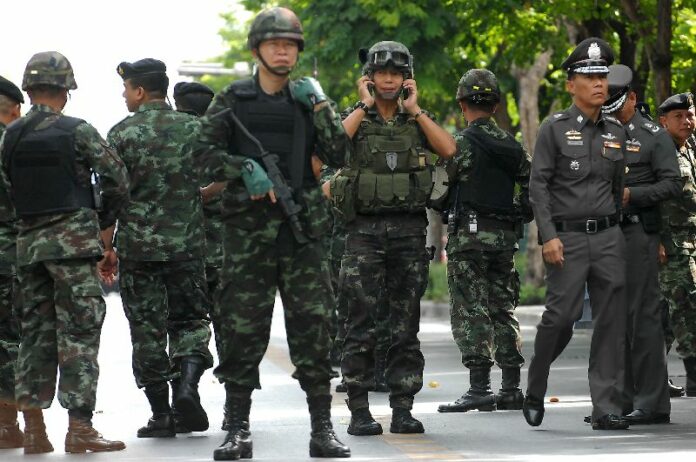 BANGKOK — Thailand's military junta has called upon anti-coup dissidents living in exile to come back to Thailand, promising to provide them with fair trials once they return.
"We want them to come back. We never shut the door to them. We never prohibit them [from coming back]," said junta spokesperson Col. Winthai Suvaree at a press conference today.
Col. Winthai was responding to a comment by Karom Polpornklang, a lawyer who represents a number of Redshirt activists and lese majeste (insult of monarchy) defendants. Mr. Karom accused the junta's National Council for Peace and Order (NCPO) of failing to give a fair trial to its critics.
Since the military staged a coup on 22 May, dozens of activists, academics, and politicians allied to the previous government have been charged with defying the NCPO's summons orders. In addition, at least fourteen new cases of lese majeste have been opened.
Many dissidents fled the country soon after the military takeover, including former Minister of Interior Affairs Charupong Ruangsuwan, Redshirt leader and former Deputy House Speaker Apiwan Wiriyachai, and historian and critic of the Thai monarchy Somsak Jiamteerasakul.
In response to a news report that Mr. Apiwan is currently in the Philippines, Col. Winthai insisted that the NCPO has no intention of asking for his extradition, despite an existing lese majeste charge against the politician.
"The case is the duty of the police to decide how to proceed. Everything is in accordance with the law. The NCPO will merely ask for cooperation [from Mr. Apiwan] to come back and contest the charge in Thailand," Col. Winthai said. "Let me stress that we have no policy of hunting down individuals who are taking exile abroad."
He claimed that NCPO leader and Prime Minister Prayuth Chan-ocha has personally invited all dissidents to return to Thailand, with promises to treat them fairly.
Col. Winthai continued, "This does not only apply to Mr. Apiwan. Other people who are in foreign countries should come back and fight the charges, and enter legal procedures. People who are contesting their charges in the country, those that don't run away, get their bail release."
Contrary to Col. Winthai's claim, a Thai criminal court recently denied a bail release for two activists charged with lese majeste for their role in a play that was performed in October last year. Police say the theater performance was offensive to the Thai Royal Family.
The two activists are currently imprisoned as they await their trial. If found guilty, they could face up to 15 years in jail.