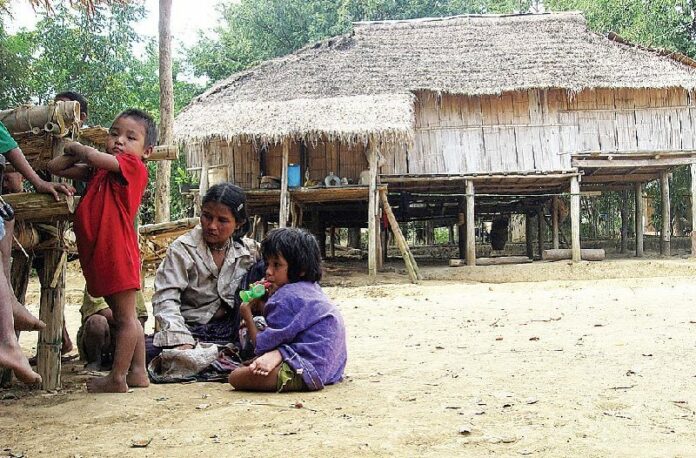 By David Hopkins
CHIANG MAI — The Park Director implicated in the disappearance of a Karen activist who went missing five months ago was recently reinstated in Kaeng Krachan National Park, drawing criticism from rights groups and casting doubt over the integrity of the investigation into the activist's disappearance.
Porlachee "Billy" Rakchongcharoen has not been seen since he was detained by park officials on 17 April in Kaeng Krachan National Park, Phetchaburi province. Billy, an ethnic Karen, was a key figure in a lawsuit brought against Chaiwat Limlikitaksorn, the park chief who was reinstated on 24 August.
Mr. Chaiwat had originally agreed to be transferred while the investigation into Billy's disappearance unfolded, but has resumed his post until the end of September to finish work related to the 2014 fiscal year budget.
Prior to his disappearance, Billy was organising testimony and documents for a lawsuit filed against Mr. Chaiwat and several other park agencies in relation to the alleged burning and destruction of the houses of more than 20 Karen families living in the park in July 2011.
In a statement to Khaosod English, the International Commission of Jurists (ICJ) expressed concern that Mr. Chaiwat's reinstatement could affect the impartiality of the investigation into Billy's disappearance.
"Some of the potential witnesses in the case, who are ethnic Karen villagers living in the National Park, have expressed their fear of reprisal if they assist with the investigation," the ICJ said. "The Government has an obligation to carry out a thorough and impartial investigation into Billy's apparent 'disappearance' while at the same time ensuring that witnesses are free from pressure, intimidation or fear of reprisal for assisting the investigation."
Mr. Chaiwat also faces charges of allegedly masterminding the murder of human rights defender Tatkamol Ob-om in September 2011. Like Billy, Mr. Tatkamol had been helping Karen villagers report abuses by park officials. The case is currently before the Phetchaburi Provincial Court.
"Generally when a government official is charged with this kind of serious criminal case the practice is to relieve him of his official duties while the court case is going on," said Surapong Kongchantuek of the Lawyer's Council of Thailand. "So it's quite strange that he still has the trust of the authorities and [has] been reinstated [and] sent back to the park."
Thailand's Department of Special Investigation (DSI) is conducting a joint-investigation into Billy's disappearance with the provincial police. This includes working with park officials to collect DNA evidence in the park related to the case, Mr. Surapong explained. However, details of the investigation remain unclear, with little information forthcoming from Thai authorities.
Meanwhile, other potential avenues for justice have already been exhausted. On 17 July the Phetchaburi Provincial Court rejected a petition, filed by Billy's wife Phinnapha Phrueksaphan, which sought an enquiry into the lawfulness of her husband's detention. Park officials say they detained Billy on the day he disappeared for allegedly possessing illegal honey.
Day of the disappeared
In a joint-statement released to commemorate the International Day of the Victims of Enforced Disappearances on Saturday, 39 human rights organizations called on Association of Southeast Asian Nations (ASEAN) member states to end acts of enforced disappearance, investigate unsolved cases and bring those responsible to justice. The statement highlighted the case of Billy, as well as the Thai human rights lawyer, Somchai Neelapaijit, who has not been seen since 12 March 2004 when he was pulled from his car in Bangkok by a group of men.
Scores of disappearances in Thailand remain unresolved; the UN Working Group on Enforced or Involuntary Disappearances currently lists 81 'open' cases of enforced disappearance in Thailand, including Billy's.
Enforced disappearance is not recognized as a criminal offense under Thailand's penal code. The Thai government signed the International Convention for the Protection of All Persons from Enforced Disappearance in January 2012, but the treaty has yet to be ratified by a parliament.
The Chair-Rapporteur of the UN Working Group, Ariel Dulitzky, stressed that addressing impunity is essential to preventing future incidents of enforced disappearance.
"Impunity is one of the ways that allows enforced disappearances to be repeated," Mr. Dulitzky said. "The right to justice… not only acts as a remedy for the particular case but is also a preventive measure for the recurrence of enforced disappearances in the future."
Indigenous peoples rights in the spotlight
Billy's case has also highlighted broader concerns over the treatment and rights of indigenous peoples in Thailand, including the Karen people, who make up the largest of Thailand's hill tribes.
It is widely suspected that Billy was targeted due to his active role defending the rights of Karens living in the Kaeng Krachan National Park. Billy had been documenting the alleged illegal logging activities of park officials before his disappearance.
The Karen have lived in the park for hundreds of years, but still have no legal protection, said Kittisak Rattanakrajangsri, General Secretary of the Indigenous Peoples' Foundation for Education and Environment. This legal limbo has been exacerbated by Thailand's military government, which seized power in a coup d'etat on 22 May and has cracked down on forest communities across the country.
The 2007 Constitution that the coupmakers dissolved in May recognized community resource management rights, said Nicole Girard, Minority Rights Group's Asia Programme Coordinator.
"There is a chance, however small, that a new constitution could more effectively protect the rights of Thailand's indigenous peoples," she said. "[That's] a chance Thailand's authorities should take."
For the Karen villagers forcibly evicted from their homes in the park in 2011, Billy's disappearance has inflicted a double blow – both increasing their sense of insecurity and setting back their ongoing legal struggle.
Without Billy's testimony and leadership, their case has been significantly weakened, said Joan Carling, Secretary General of Asia Indigenous Peoples Pact.
"In their attempts to seek justice, more injustice has been done to them," Ms. Carling said.