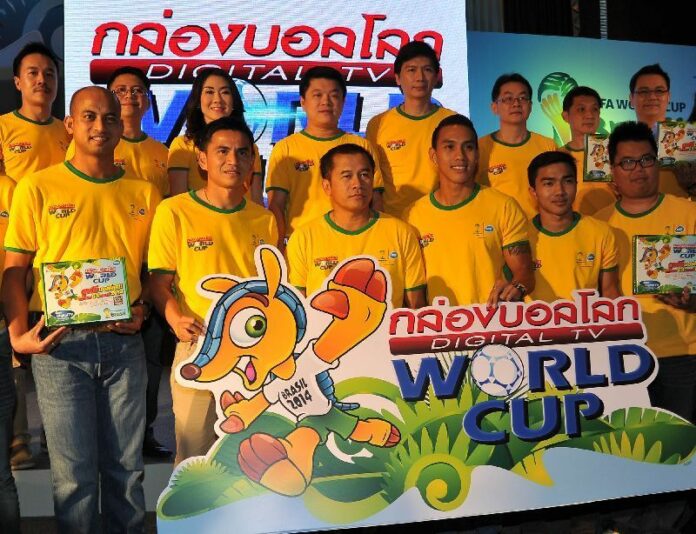 BANGKOK — The state has yet to compensate Thai media giant RS International for airing the 2014 FIFA World Cup matches free of charge to the public, a move that was ordered by the Thai military junta a month after it staged a coup.
Surachai Chetchotisak, executive chairman of RS International, said yesterday that the company is still owed 308,890,000 baht from Thailand's National Broadcasting and Telecommunication Commission (NBTC).
The payment is supposed to compensate RS for the "lost opportunity" it faced in June after the junta ordered the company to relinquish its exclusive rights to the World Cup broadcasts and allow every match to be aired for free on public TV channels. The order was part of the junta's campaign to "return happiness to the people."
RS initially intended to only broadcast the matches to customers who had purchased their "signal boxes," which would have netted approximately 700 million baht for the company.
Mr. Surachai said only 100 million baht of the 427 million baht promised by the junta has been paid so far.
"Although the [agreed] amount of money was not sufficient to compensate the business damages, and not worth the investment, the company was willing to cooperate to create an atmosphere of happiness for Thai people," Mr. Surachai said. "RS did what we agreed with NBTC in a fast and complete manner. But now that the World Cup has been over for months, there is no progress about the payment."
The RS executive said he has already submitted two letters to the NBTC demanding the rest of the money and warning that RS will resort to legal action if no progress is made.
Sec-gen of the NBTC Takorn Tantasit said the commission's president, Air Chief Marshal Thares Poonsri, is in Turkey at the moment and unable to make any decisions regarding the payment.
Mr. Takorn said the NBTC is willing to pay RS 200 million baht – half of what the company asked – but stressed that no decision will be made until Mr. Thares returns to Thailand.
The free World Cup telecasts, which were shown on army-owned Chanel 5 and the state-run Channel 11, were part of the junta's "happiness campaign" following the military takeover on 22 May. Other activities organised by the junta, formally known as the National Council for Peace and Order (NCPO), included free concerts, free haircuts, and free movie tickets.