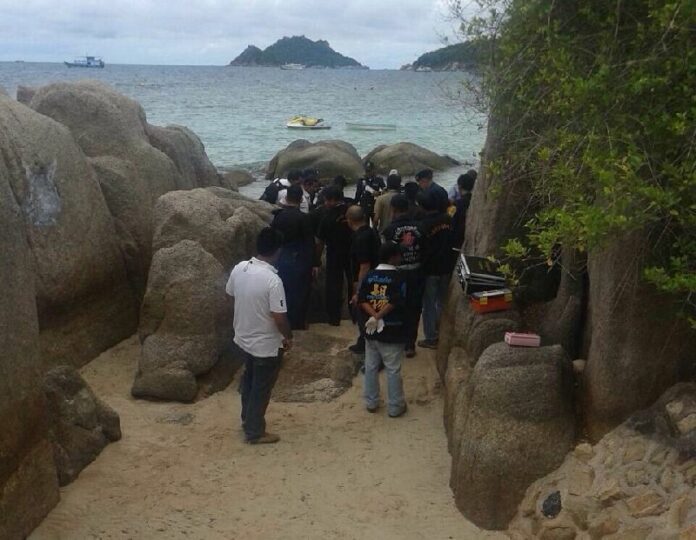 SURAT THANI — Police have closed down all piers on the island of Koh Tao as they search for the suspect behind the brutal murder of two British tourists on the island.
The 24-year-old man and the 23-year-old woman were found dead near Hat Sai Ri Beach early this morning. The female tourist was partially naked and "slashed" to death, police say, while the naked male tourist had a serious wound on the back of his neck.
Police believe the suspect may have attempted to sexually assault the female victim before she was killed.
The two bodies were found 20 metres apart from each other, and approximately 30 metres away from a resort on the beach. A bloody hoe was also found in the area, leading police to suspect that it was the weapon used in the gruesome murders.
Police say that they have closed down all piers on the island to prevent the suspect from fleeing the area.
"I believe the perpetrator is still on the island," said Pol.Maj.Gen. Kiattipong Khaosam-ang, a commander of Surat Thani police.
Witnesses said they saw the pair drinking and dancing with other party-goers on the beach in front of their resort on the previous night. The pair then left the party, presumably to take a stroll, witnesses said.
According to Pol.Maj.Gen. Kiattipong, the man arrived in Thailand with "2-3" male friends while the woman came with four female friends. They met at Ocean View Bungalow, where they were both staying, the officer said.
The bodies were found at around 6.20 am by a group of Burmese workers who were cleaning the beach, Pol.Maj.Gen. Kiattipong said.
A friend of the male victim, who also had wounds on his body, was initially being considered as a suspect in the case, but police say he is no longer being treated as a suspect because it has been established that his injuries date back to a recent Full Moon Party.
Khaosod English is witholding the identities of the victims until it's confirmed that their families have been notified.
CORRECTION: The female victim's age is 23, not 24 as was originally reported.
For comments, or corrections to this article please contact: [email protected]