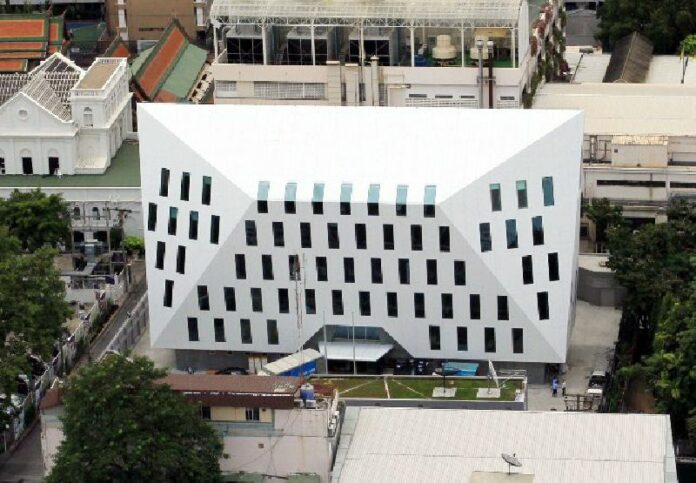 Note: This is a press release. Its contents are not produced by Khaosod English.
"EUROPEAN HERITAGE DAYS" EVENT IN THAILAND
BANGKOK – 21 SEPTEMBER 2014
________________________________________
As part of the « European Heritage Days » annually held in France and overseas, the French Ambassador to Thailand will open, as in previous years, the reception areas of his residence to the public.
This "open house" event will take place on Sunday 21st September 2014 from 10 am to 4 pm at number 35, rue de Brest, Charoenkrung Road, Soi 36, in the Bang Rak district of Bangkok.
The « Heritage Days » have been annually organized since 1984 on the third week-end of September by the French authorities in France and overseas, in order to promote the richness and diversity of public buildings. They were, later on, adopted by other European countries and since then named « European Heritage Days ».
During the tour, visitors will discover the main lounge and the large dining room with a fully set table, both on the first floor of the Residence, as well as the reception areas located on the ground floor of the mansion where a photographic exhibition on the topic of the « Biodiversity : Thirty-four wonders of the world » will be on display. Also, of special interest, visitors will also have the opportunity to enjoy an outside view of the brand-new building of the Embassy's chancery.
The French Embassy staff will be available to guide the visitors and answer their questions during the visit.
Press Contact : Napadol Wirakan – [email protected] – 02 657-5131
++++
สถานเอกอัครราชทูตฝรั่งเศสประจำประเทศไทยจะเปิดทำเนียบเอกอัครราชทูต (ที่พำนักท่านทูต) โดยเฉพาะส่วนที่ใช้ในการต้อนรับบุคคลภายนอกให้ผู้สนใจได้เข้าชมเนื่องใน "วันมรดกยุโรป" งานดังกล่าวจัดขึ้นทุกปีทั้งในฝรั่งเศสและในต่างประเทศ
ทำเนียบเอกอัครราชทูตจะเปิดให้เข้าชมวันอาทิตย์ที่ 21 กันยายน พ.ศ.2557 เวลา 10.00 น. ถึง 17.00 น. สถานที่ดังกล่าวตั้งอยู่ที่เลขที่ 35 เจริญกรุงซอย 36 (ถนนแบรสต์) เขตบางรัก กรุงเทพฯ (ข้างโรงแรมโอเรียนเต็ล)
ในวันดังกล่าวผู้ที่เข้าชมจะได้เยี่ยมชมห้องนั่งเล่นใหญ่ ห้องรับประทานอาหารที่ตกแต่งประดับประดาพร้อมรับแขกที่มาเยือนบนชั้น 2 ของทำเนียบเอกอัครราชทูต รวมถึงพื้นที่ที่ใช้ในการต้อนรับแขกสำคัญๆ ที่ชั้นล่างของอาคารเดียวกัน พร้อมด้วยนิทรรศการภาพถ่าย "Biodiversity : Thirty Four Wonders of the World" นอกจากนี้ ยังจะได้ชมสถานที่ทำการใหม่ของสถานทูตฯ ซึ่งเพิ่งเปิดใช้จากภายนอกอาคารอีกด้วย
เจ้าหน้าที่ของสถานทูตฯ จะเป็นผู้นำชมและตอบข้อสงสัยแก่ผู้ที่เข้าเยี่ยมชมตลอดวัน รายละเอียดเพิ่มเติมติดต่อ นภดล วีระกันต์ – อีเมล [email protected] – โทรศัพท์ 02 6575131