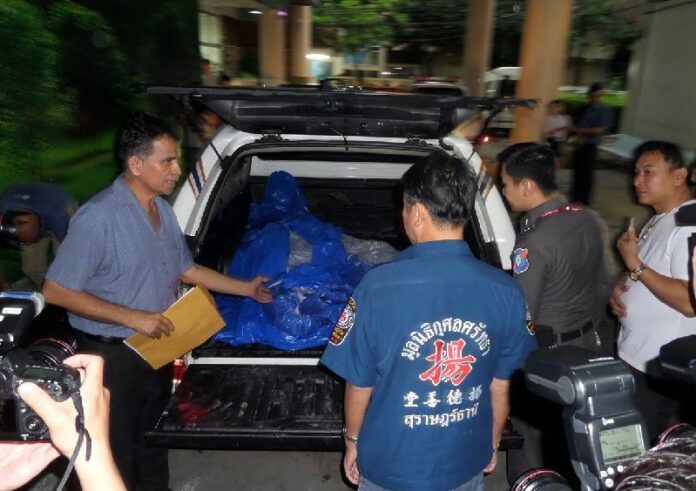 BANGKOK — Police say they mistakenly identified two people in a photograph distributed to the media as the British tourists who were murdered on the popular island of Koh Tao on Monday.
Police initially said the still photograph taken from CCTV footage showed David Miller, 24, and Hannah Witheridge, 23, walking hand-in-hand away from a party on Haat Sai Ri Beach late Sunday night. The pair was later found naked and beaten to death on the beach at 6:30am on 15 September.
But Pol.Col. Prachum Ruengthong, a commander of Pha Ngan Police who oversees Koh Tao island, said today that the photograph did not in fact depict the two victims.
According to Pol.Col. Prachum, the officers in charge of CCTV investigation "made their own assumption" and misidentified the pair. The police currently have no CCTV footage of the victims, he added.
Police earlier insisted the image showed the two murder victims, following several requests for confirmation by Khaosod English.
"There has been a lot of information [given to the media] through many channels," Pol.Col. Prachum explained. "Each officer gave their own piece of information. From now on, I will be the only person who gives information."
However, Pol.Col. Prachum said the other image given to the media of a man who "behaved suspiciously" near where the bodies were found is still valid. Police are still searching for the man, he said.
According to the latest reports, two British men are also being treated as possible suspects. Earlier today, police cleared three male migrant workers from Myanmar who were initially held and questioned about the incident.
The misidentified photograph is one of several blunders made by Thai police and media reporting about the grisly murder case over the past few days.
Thai police previously gave unsubstantiated and bizarre statements about the murder, such as the claim that one of Mr. Miller's friends was a "gay man" who possibly committed the murder out of jealousy, and the announcement that the island had been "sealed off," whereas in reality boats were permitted to leave the docks normally.
These claims were widely reported by major Thai media agencies.
Police also made contradictory statements about a British friend of Mr. Miller, who was initially considered a suspect, then released after questioning and declared unrelated to the murder, only to be detained again as a potential suspect this morning.