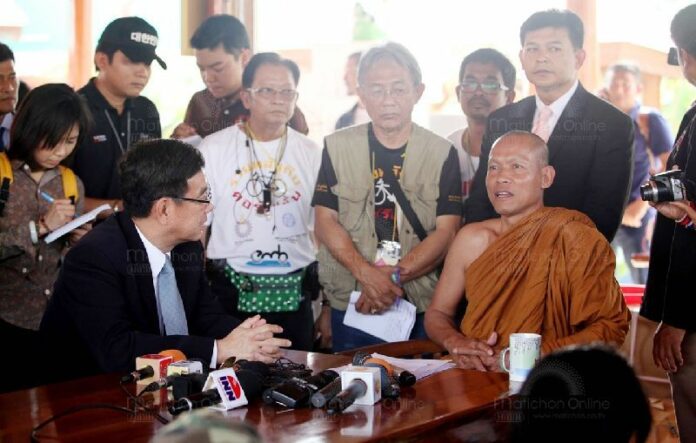 BANGKOK — Thailand's Election Commission, which refused to organise elections earlier this year in Thailand, is now observing the referendum that will settle the question of Scotland's independence.
According to a statement given to the press, Election Commissioner Somchai Srisutthiyakorn and a group of other EC officials traveled to Scotland on 11 September to observe the voting in Glasgow and Edinburgh. Residents in Scotland were asked on 18 September to cast ballots on the question, "Should Scotland remain in the United Kingdom?"
The EC officials are scheduled to stay in Scotland until 21 September.
In the statement, Mr. Somchai drew a distinction between the Scottish referendum and a Thai election, citing the "peaceful" nature of the former despite sharp differences of opinion.
"People who support the independence of Scotland and those who oppose it are friendly to each other," Mr. Somchai said. "Each side fought with reasons. There was no violence."
He also hailed Scotland's referendum organisers for their "strict impartiality."
The decision by the EC officials to travel to Scotland on taxpayer money is bound to baffle many back at home, where democracy has been suspended and separatism of any form is outlawed by the first section of the 2014 interim constitution.
Mr. Somchai and the EC are also notorious for their reluctance to organise elections called by the government of former Prime Minister Yingluck Shinawatra, who dissolved Parliament last December in the face of mounting anti-government protests.
The first snap election was scheduled to take place on 2 February with advance voting set on 24 January, but EC officials in many polling stations and voting districts simply closed down their posts, claiming pressure from anti-government protesters who sought to block the election.
The protesters, led by the People's Committee for Absolute Democracy With the King As Head of State (PCAD), demanded that unspecified national reforms be implemented before an election. In April, the EC allowedPCAD protesters to enter the hall where election talks were being held and hang banners bearing anti-election slogans.
After the Constitutional Court nullified the 2 Feb election result, the EC repeatedly resisted the government's attempt to organise another election, claiming that a new poll was not possible because of opposition from the PCAD.
The new election, which was initially scheduled to take place on 20 July, never happened, as the military seized power and dissolved the government on 22 May.
Thailand's military rulers now say elections will be not be held until October 2015, and only if "national reconciliation" has been achieved and the political climate is deemed stable.
For comments, or corrections to this article please contact: [email protected]