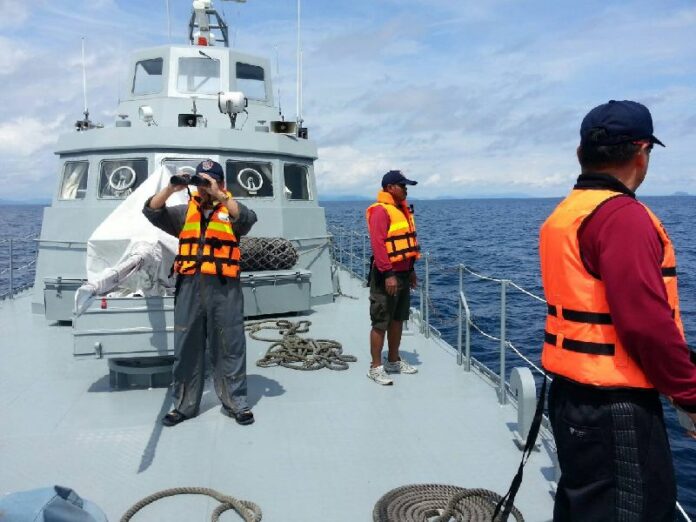 KRABI — Thai authorities are still searching for two South Korean tourists who went missing after their speed boat crashed into a fishing vessel in southern Thailand yesterday.
The incident took place at around 5 pm near the Pi Pi Islands in the Andaman Sea. Thirty-seven tourists and six crew members were injured in the crash, and the two Korean tourists, who were not wearing life jackets, were tossed overboard from the force of the collision.
Most of the tourists were Chinese, police say. The rest were from South Korea, Australia, France, Japan, the United Kingdom, and Thailand. The boat was bound from Maya Lagoon to Phuket island.
Thai authorities dispatched helicopters and patrol boats to search for the missing tourists for a second day today, but so far there has been no sign of the Koreans. Several officials expressed their belief that the tourists may have drowned to death by this time.
Khaosod English is withholding their names until it is certain that their families have been notified.
Surat Martosot, the 36-year-old driver of the boat, was detained by the police and charged with reckless action leading to injury of others.
Surat told police today that prior to the accident he left the steering wheel "for 30 seconds" to fetch a plastic bag that was about to fly into the sea. When Surat returned, he realised the boat was about to crash into a fishing trawler but was not able to steer away in time.
He did not explain why the two Koreans were not wearing life jackets. He also claimed that poor visibility played a part in the accident.
The boat crash took place amid rising concerns over the safety of foreign tourists in Thailand, following the brutal killing of two British tourists on the southern island of Koh Tao on 15 September. The investigation is ongoing.