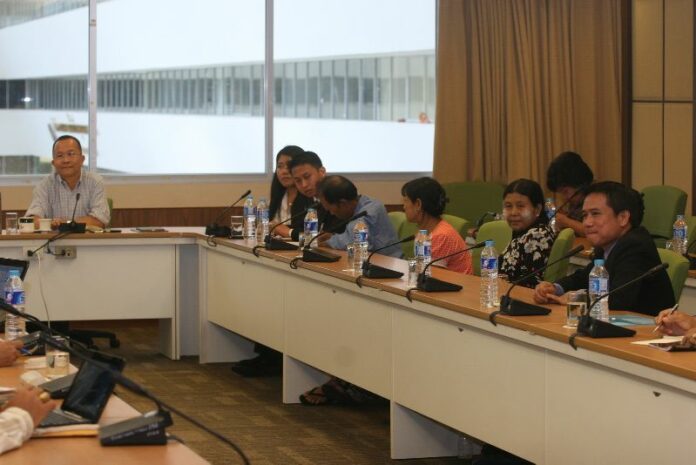 BANGKOK – A top human rights official has threatened to prosecute Thai police if they refuse to explain the alleged torture of two Burmese men accused of murdering a pair of British tourists.
Niran Pitakwatchara, chairman of Thailand's National Human Rights Commission (NHRC), said police failed to show up for a hearing about their alleged torture of the two murder suspects, Zaw Lin and Win Zaw Htun.
Zaw and Win were arrested several weeks after David Miller, 24, and Hannah Witheridge, 23, were found murdered on the resort island of Koh Tao in southern Thailand on 15 September. Police intially said the two migrant workers confessed to killing the Britons, but the pair later recanted their confessions, which they told their lawyers were obtained under duress.
According to Niran, the NHRC summoned police to explain the allegation at a hearing today, but police refused on the grounds that any testimony given to the rights commission may affect the ongoing murder investigation.
However, Niran said the excuse is not valid because the NHRC is not trying to prove whether the suspects are innocent or guilty.
"The NHRC is not treating the police as suspects. We are not convening the hearing to accuse them of anything … The hearing is meant to find facts. We don't want to know who the murderers are," Niran told reporters today.
"We have to give fairness to all sides, especially the migrant workers," he continued. "Otherwise there won't be justice in our nation. No one will come to work in our country."
If police fail to appear before the NHRC by 12 November, the commission may vote to take legal action against the police in accordance with Section 34 of the law that governs the NHRC's operation, Niran said.
"Let me stress that the NHRC is not interfering with anyone's work. We have to do our duty once there's a complaint. If we don't, we will be prosecuted for negligence under the criminal laws," he explained.
Niran's comments followed his meeting with Win and Zaw's parents, who were flown from Myanmar with the assistance of Burmese authorities to visit their sons and observe the court procedure.
The suspects, both 21 years old, have been charged with premeditated murder, sexual assault, and nighttime theft. They are currently awaiting trial at a prison on Koh Samui island, a neighbour of Koh Tao, where the murder took place.
However, the office of public prosecutor has not formally taken up the case against the pair in court, citing the police's "incomplete" file.