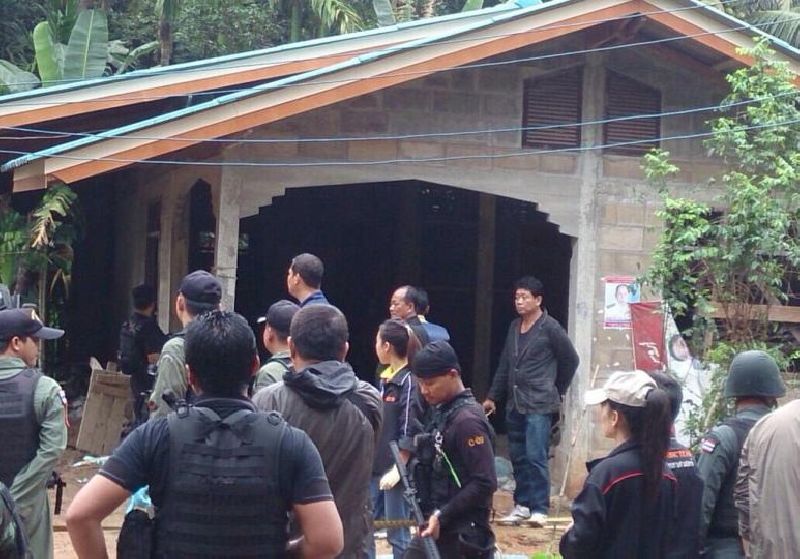 PATTANI — Local residents have expressed concern over the military's raid on a village in Pattani province that killed two suspected separatists and nearly obliterated a villager's house on Friday.
The raid took place during the early morning of 14 November in Khok Node village, where security officers say members of a local separatist group were taking shelter. After a prolonged gunfight between soldiers and the suspects, two alleged insurgents were killed and three more men were arrested.
Although the Royal Thai Army says soldiers only opened fire after they were shot at, some villagers say the raid was an excessive use of force. Several residents of Khok Node told Khaosod they were particularly upset by the military's decision to ram an armored vehicle into the house where the two suspects were holed up, as well as spray the building with dozens of bullets.
Twenty soldiers from the Engineer Corps have been dispatched to help rebuild the damaged home, said Cpt. Chupong Mongkoldee, an officer in charge of the task force.
Cpt. Chupong estimated that the repair work will take at least a week due to extensive damages around the building.
Abdullah Bueraheng, the director of a local school and owner of the damaged house, said he did not personally know the two suspects who fought and died inside his home. According to Abdullah, he only agreed to let the men stay in his home after a neighbour told him the pair was looking for a place to spend the night.
"If I had known this was going to happen, I would never have let them to stay there," Abdullah said. "It's like placing danger on myself."
Abdullah said he is also worried about his son, Abdulromae Bueraheng, who was among the three men detained by the military during the raid.
"I don't know how he is right now. I don't know if he is being hurt. When he was arrested in front of his house, he was beaten by soldiers before everyone's eyes, but no one dared to stop them," Abdullah said.
Abdullah added that he has been arrested three times since 2004 on the suspicion of aiding Islamic separatists, but that authorities have never pressed formal charges against him.
According to the Royal Thai Army, the two men killed in the 14 November raid were high-ranking operatives in a shadowy militant group that has launched frequent attacks on civilians and security forces in the provinces of Pattani, Yala, and Narathiwat, a region known colloquially as the Deep South.
The chairman of Cross Culture Foundation (CrCF), an NGO that has been campaigning for human rights in the Deep South, said security officers should be sensitive when they stage operations in populated areas in order to avoid alienating local residents.
"I don't know why the soldiers thought it was necessary to use their guns on the house, instead of using special forces to quickly apprehend the perpetrators," CrCF's chairman Pornpen Kongkachornprasert said.
Following the raid, the region was rocked by a fresh spate of violent attacks that security officers believe were committed in retaliation. Over the weekend, a public teacher was shot dead in her home in Pattani, two women on motorcycle were gunned down by a pair of perpetrators in Yala, and a soldier was injured in a roadside bombing in Pattani.
Security officers believe the attacks were committed by the separatists who have been seeking to revive the independent Pattani sultanate that was incorporated into modern Thailand in the early 20th century.