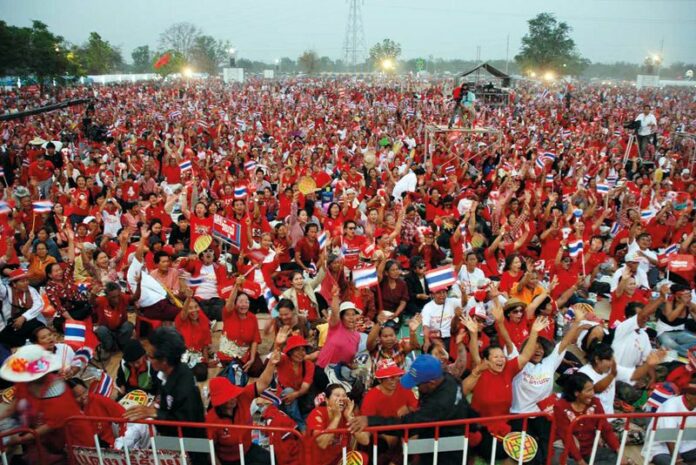 KHON KAEN — A core Redshirt activist in Khon Kaen province said his supporters will not stage any protests against the upcoming visit by Gen. Prayuth Chan-ocha, the leader of the 22 May coup d'etat.
"We agree with his trip," said Napadol Seedatan, a coordinator of the Redshirts' umbrella group, the United Front of Democracy Against Dictatorship (UDD). "We will not stage any resistance or protest."
Gen. Prayuth, who chairs Thailand's military junta and is also Prime Minister, is set to tour Khon Kaen on 19 November to collect opinions from the public and listen to their concerns, officials said.
The visit will be Gen. Prayuth's first trip to northeastern Thailand, the heartland of the political faction that supported the government toppled in the 22 May coup.
But Napadol said authorities do not need worry because Redshirts "want to see a national reconciliation."
"We want the country to be peaceful for the next election," Napadol told Khaosod. "We are waiting for the new constitution. If there is an election, we will run in the election in accordance with the democratic regime. Please rest assured that there won't be any protest against the Prime Minister."
In the wake of the 22 May coup, the junta, formally known as the National Council for Peace and Order (NCPO), cracked down on Redshirt networks by briefly detaining hundreds of politicians, activists, and academics perceived to be sympathetic to the movement. Most detainees were forced to sign agreements not to participate in any political activities as a condition of their release.
The military has also banned public protests and sent violators to face trials in military court, where appeals are not permitted.
Although Redshirts staged small anti-coup protests immediately after the miltiary takeover, the resistance fizzled out in the face of a crackdown by authorities, as well as a lack of support from the UDD leadership. Many top Redshirt leaders also fled the country soon after the coup.
In late May, the military arrested 22 people in Khon Kaen and accused them of plotting an armed insurrection against the junta in an operation known as the "Khon Kaen model."