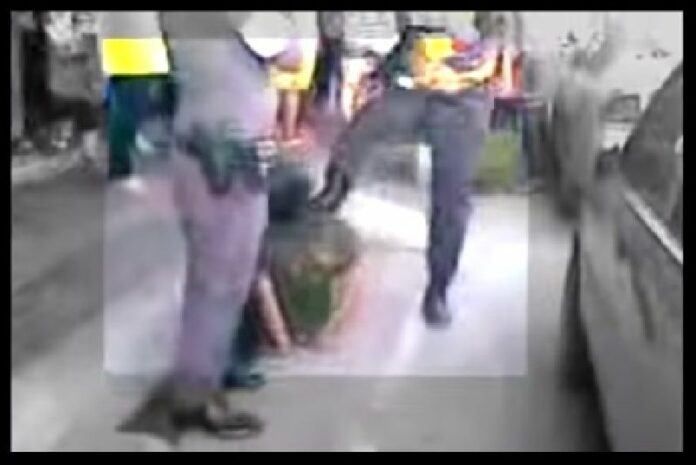 BANGKOK — Thais on social media are rallying around a traffic police officer who was suspended from duty for kicking a drunk driver who crashed into six cars over the weekend.
The police force in Nakhon Sawan province announced the suspension of Police Senior Sergeant Major Poradet Detchote after a video, taken by a bystander, showed him kicking a driver who reportedly smashed his car into six vehicles in front of a school and injured a schoolgirl on 15 November.
The suspect's hands were handcuffed behind his back when he was kicked by Pol.Sen.Sgt.Maj. Poradet. Police told the media that the driver, whose name has not been released to the public, tested positive for alcohol in his breath.
Police say Poradet would also face disciplinary and legal action for his assault.
Yet many Thais have posted messages and changed their profile photos on Facebook to express support for Poradet, whose behavior they are calling an appropriate punishment for the drunk driver.
A number of comments argue that the suspect "deserves" to be "taught a lesson" by the police sergeant.
"Why is it a crime for the police to kick him?" one commentator wrote. "The police officer is suspended because of his inappropriate action. What about getting drunk and crashing someone else's cars, isn't that even more inappropriate?"
Dozens of demonstrators also rallied in front of Mueang Nakhon Sawan Police Station today to show their support for the suspended police officer.
Speaking to Channel 3 over the weekend, Pol.Sen.Sgt.Maj. Poradet apologised for his action and explained that he could not control his rage over what the suspect had done at the time.
"I admit my fault. I apologise to every side, but no one saw what the suspect had done," Poradet was quoted as saying by Channel 3 website. "I'm sorry for the outburst of my rage."
Thai police have a long record of assaulting suspects in custody.
Suspects in Thailand are also frequently mobbed and attacked by bystanders during "crime re-enactment scenes," in which the suspects are paraded in front of the public and press and forced to "re-enact" their alleged crimes. The re-enactment is criticised by human rights experts because it appears to pre-suppose guilt of the suspects.
For comments, or corrections to this article please contact: [email protected]
You can also find Khaosod English on Twitter and Facebook
http://twitter.com/KhaosodEnglish
http://www.facebook.com/KhaosodEnglish