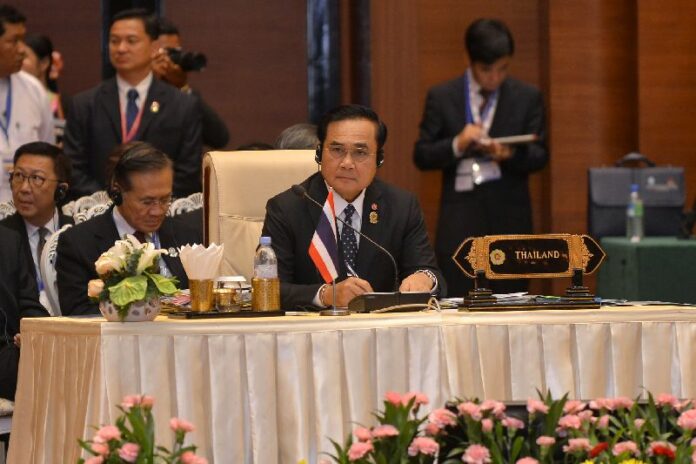 BANGKOK — A film depicting Prime Minister Prayuth Chan-ocha's moral teachings will premier across Thailand this December, officials say.
Panadda Diskul, Permanent Secretary of the Office of Prime Minister, announced yesterday that the film will be shown on all state-owned TV channels and screened in 73 cinemas owned by Major Cineplex across the country for free on 6 December.
The film, called "Thai Niyom (Thai Pride)," is also intended as a tribute to the 87th birthday of His Majesty the King, which falls on 5 December, a public holiday in Thailand, Panadda said.
The film is based on the "Twelve Values" that Thai junta leader and Prime Minister Prayuth penned soon after leading the 22 May coup.
"This is our first effort to comply with Gen. Prayuth's policy that called for a production of a film that promotes national identity," said Panadda when he announced the start of the filming on 9 October.
According to Panadda, the film consists of twelve separate 10-minute shorts, each of them dedicated to illustrating one of the values. The short movies were directed by twelve different directors, Panadda said.
"The presentation of each film is different, but it's all based on the principle of encouraging children and young people, and all Thais, to uphold good morality," Panadda explained at the press conference yesterday.

An example of the Twelve Values banners public schools are required to hang in classrooms.
In July, Gen. Prayuth said in a public address that he wants every Thai to adhere to the following principles:
1. Loyalty to the Nation, the Religion, and the Monarchy
2. Honesty, sacrifice, endurance, and noble ideology for the greater good
3. Gratitude for parents, guardians, and teachers
4. Diligence in acquiring knowledge, via school studies and other methods
5. Preserving the Thai customs and tradition
6. Morality and good will for others
7. Correct understanding of democracy with the King as Head of State
8. Discipline, respect for law, and obedience to the older citizens
9. Constant consciousness to practice good deeds all the time, as taught by His Majesty the King
10. Practice of Self-Sufficient Economy in accordance with the teaching of His Majesty the King
11. Physical and mental strength. Refusal to surrender to religious sins.
12. Uphold the interest of the nation over oneself.
In addition to the upcoming film, Ministry of Education has already unveiled a poem and pop song based on the Twelve Values.
To ensure that all Thais will take the Twelve Values to heart, authorities have also instructed public schools and state agencies to hang a banner listing Gen. Prayuth's teachings on their premises.
Gen. Prayuth, who is wielding a near-absolute power as Prime Minister and junta leader, is frequently extolled as a champion of the Thai people by state media.
A patriotic ballad Gen. Prayuth allegedly wrote "in one hour" has been played nonstop on state-owned media for months. The General also gives weekly televised lectures about morality to the public and has banned protests or any display of dissent against his rule.
For comments, or corrections to this article please contact: [email protected]
You can also find Khaosod English on Twitter and Facebook
http://twitter.com/KhaosodEnglish
http://www.facebook.com/KhaosodEnglish