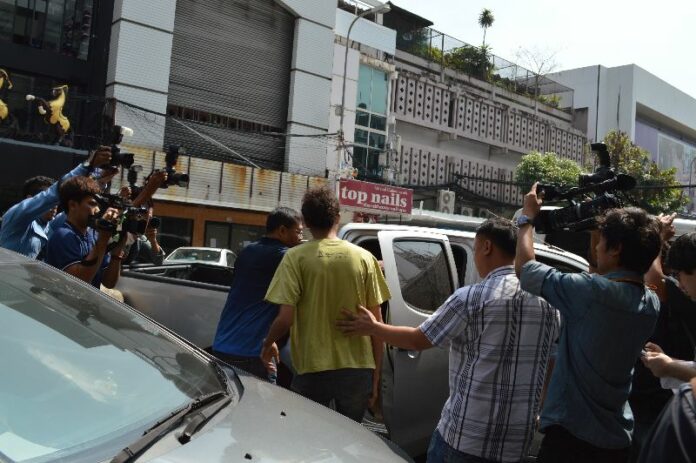 BANGKOK — Three university students were arrested by police in Bangkok today for organising a mass viewing of the latest "Hunger Games" movie, which has become associated with dissent against Thailand's military regime.
The students originally planned to watch the film at Scala theatre in Bangkok, but the cinema removed the movie from its program altogether after students bought every ticket in the house. Today, two student activists arrived at Scala theater to tell the press they planned to watch the movie somewhere else.
"We organised this event as movie-lovers," said Rattapon Supsopon, a fourth-year economics student at Thammasat University. "We are not political humans who are only obsessed with politics."
When reporters asked one of several dozen police officers stationed at the theatre if they planned to make an arrest, Pol.Col. Kittikorn Boonsom replied, "We have to see their action, then we will interpret what their intention is."
Minutes later, Rattapon was escorted off the premises by plain-clothed officers and taken to the police station. Soon after that, a second student was arrested for taking out a copy of George Orwell's dystopian novel 1984, another symbol of anti-coup sentiment banned by the military junta that seized power on 22 May.
In an effort to promote "national reconciliation" between Thailand's divided political camps, the junta has outlawed all political activities, including academic seminars. Violators have been sent to face trials in military court, where appeals are not permitted.
A third student was arrested today at a nearby cinema in Siam Paragon mall, which students chose as the location for the mass-viewing of "The Hunger Games: Mockinjay – Part 1" after Scala theatre canceled its screening.
​Natcha Kong-udom, a first-year student at Bangkok University who was not associated with the other activists, was arrested by police after she began flashing the three-finger salute in the theatre's lobby.
The gesture, inspired by its use as an act of rebellion in "The Hunger Games," became a symbol of anti-coup resistance shortly after the military takeover.
"I think this film has many things that resemble the situation in Thailand right now," Natcha told reporters at the police station. "I knew that the salute would have me arrested, but I think it's a thing that a person should be able to do."
She was later taken by soldiers to the 2nd Cavalry Division headquarters in Sanam Pao district for detention.
Yesterday, five law students were taken to an army camp for flashing the salute while coup-leader turned Prime Minister Gen. Prayuth Chan-ocha was giving a speech in Khon Kaen province.
"These arrests reflect the abnormality of post-coup Thailand," said Sunai Pasuk from Human Rights Watch.
"The security forces should exercise judgment and separate peaceful expression from violent protests," he continued. "They have to listen to people's opinions about the direction of the reforms."
(Reporting by Sally Mairs)
For comments, or corrections to this article please contact: [email protected]