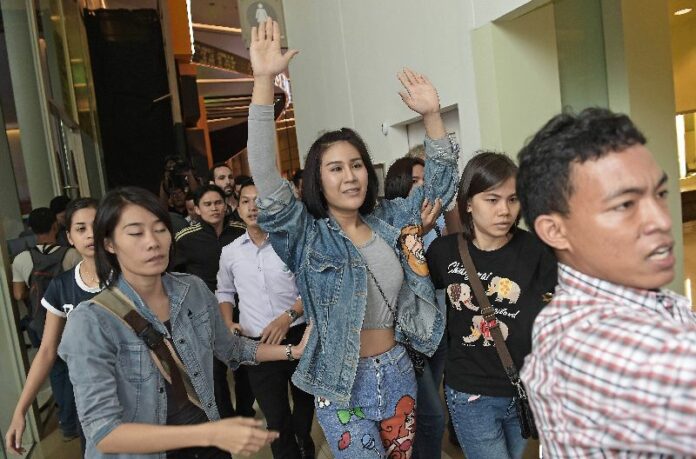 BANGKOK — Thais are still allowed to quietly disagree with their military government, a member of the junta confirmed today.
Gen. Prawit Wongsuwna, Deputy Prime Minister and a member of the junta's National Council for Peace and Order (NCPO), made the comment in response to the recent spate of arrests of student activists protesting the 22 May 2014 coup.
"The government is currently working to build reconciliation. We don't want any disputes," Gen. Prawit told reporters today. "If anyone disagrees with the NCPO, they have the right to think that way. But they cannot express that [disagreement], strictly."
Yesterday, five student activists were arrested in Khon Kaen for interrupting a speech by NCPO chairman and Prime Minister Prayuth Chan-ocha. The students were escorted off the premises after they stood up in front of the stage where he was speaking and flashed the three-finger salute, an anti-coup gesture inspired by the "Hunger Games" movies. The students were reportedly released today without charges.
Police arrested two more student activists today in Bangkok for attempting to organise a mass screening of the latest installment of the "Hunger Games" series: "Mockingjay – Part One." A movie-goer was also arrested for raising the three-finger salute in the lobby of a cinema where the film was being shown.
Gen. Prawit said he believes the protests will not escalate any further.
"I believe the students' symbolic protests that are happening in many areas at the moment will not escalate, because I believe the majority of the people understand what the NCPO and the government are doing," Gen. Prawit said.
He continued, "The NCPO is asking for only one year, which is not a long time, in order to reform the country and lead it to a new election. And then things will return to normalcy immediately."
For comments, or corrections to this article please contact: [email protected]
You can also find Khaosod English on Twitter and Facebook
http://twitter.com/KhaosodEnglish
http://www.facebook.com/KhaosodEnglish